Meet the Cast
Go through your phone book, call people
and ask them to drive you to the airport.
The ones who will drive you are your true friends.
The rest aren't bad people; they're just acquaintances.
-Jay Leno
Thanks for all your good wishes for safe travel. I'll be sure to have a good time, and I'll be back in two weeks. In the meantime, you guys are going to be having
a great time at Knitting Underway
. I have such an exciting schedule of guest bloggers lined up for you I
almost
don't want to leave. (That was a lie. But they are exciting.) There will be a new post every other day or so, and I hear rumors of superfun posts in the works, so stay tuned and leave encouraging comments. I've given them access to the blog and free rein to say whatever (family-friendly) things they'd like to say, so I'm taking the liberty of some introductions.
Meet the Cast
My Parents:
You've met them here before through my knitting (
Mom
and
Dad
), and now you're about to meet them in a whole new way. I have great parents. Really, the best. But you'll find that our for yourselves soon. And the fact that my mom, who isn't the world's biggest computer person, is actually tackling this blog posting thing, well that's just more proof that I have
the best parents ever
. Remember one thing, however: No matter what they tell you,
Hannah
is a
high-maintenance
dog.
The Flitgirl:
Flitgirl
and I met in 6th grade when she borrowed a library book from me and made it overdue. It wasn't an auspicious beginning, but when someone threw a piece of bread into our 7th grade social studies classroom, well, that was it. We've been best friends ever since; I even
taught her to knit
. She writes for magazines, her novel, and
her own blog
, and is currently sunning herself in the Carribean with
her fiance
, so be sure to ask her how the trip was. (And if she tries to write embarrassing things about me, remind her about
all those photos
I have from the early years and especially from that time in Verona, Italy . . .)
Shosh:
My randomly-assigned freshman roommate is proof that I was born under a lucky star. How many of you became best friends with your freshman roommate? In fact,
the last time I went to Europe
, Shosh and I caused a traffic jam in Seville (or was it Cordoba?), got offered a ride on a garbage truck, and ran through the streets of Madrid at 5am, at which point
she saved my life
by keeping me from falling onto the subway tracks. Good thing I'm so much older and, er, wiser now, right? So is she. Shosh is a rabbinical student, and while she neglected her knitting for a while to crochet kippot, she's coming back to it. I'll let her tell you all about. But don't let her forget that
I taught her how to knit
.
Kate D.:
Another best friend from college,
Kate
and I shared everything. Books, classes, a cooking group, an obsession with Joshua Lawrence Chamerlain, and even double-blind dates (don't ask). Still,
I could never convince her to knit.
(She did wind my hanks into balls for me, though. That was nice.) I tried again when I went to
Seattle
to
visit
her, but to no avail. She's plenty crafty in other ways, however, and made me
all those lovely
sock
boxes
. She's finishing up student teaching, writing a novel, and shares a blog with Flitgirl. In fact, I introduced from friend from forever and my friend from college. I think they met, what, twice? Three times? And then
they started a blog without me
. That may be why I started my own. Ironic that they're not guest blogging, isn't it?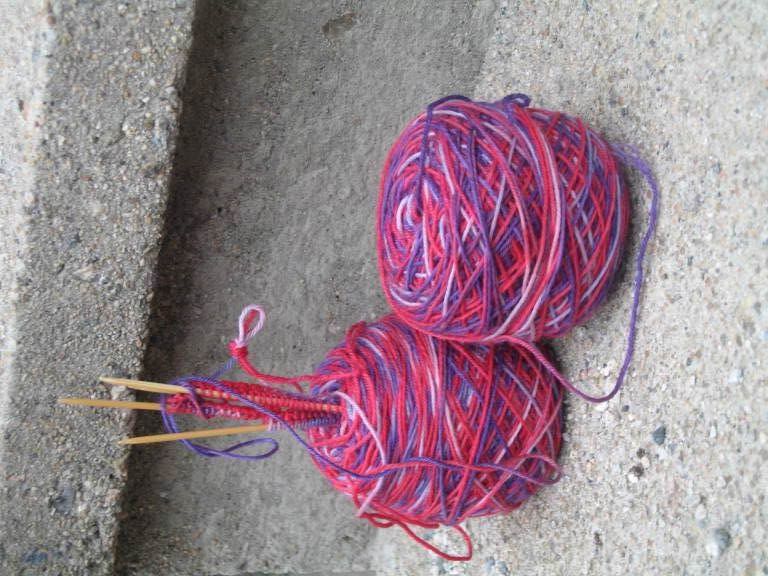 I'm A Winner
I was waiting for some sun to take these photos, but it looks like I'm going to have to wait another two weeks (especially given the weather reports in northern Europe these days). LOOK at what
Leah
sent me! I won a contest on her blog during the Knitting Olympics and she sent me some lovely Lorna's Laces. She also sent me some chocolate which us, uh,
unavailable
for the photo shoot. Don't ask me why.
What a treat. As you've noticed, I've already cast on. I'm thinking
Pomatomus
. By the next time you see me, I might be wearing these.