Topsy Turvey
Each time I see the Upside-Down Man
Standing in the water,
I look at him and start to laugh,
Although I shouldn't oughtter.
For maybe in another world,
Another time
Another town,
Maybe HE is right side up
And I am upside down.
-Shel Silverstein, "Reflection"
In one of the heady early days of
Team College Hill
, when we had just met
Rachel
and we were knitting furiously, giddily, with a single common purpose (and chocolate), before our illusions were shattered by the trauma of
Cutting Edge 2: Going for the Gold
, way back in February, Rachel and I talked socks.
She's making her second pair now (in the
Gryffindor sock yarn
- I am so jealous! It's sold out everytime I try. See the "0" available?), and back in the day she asked me how I made my socks. I was very clear: top down, heel flap, French (half-handkerchief) heel, wide toe. Minimal variation for the occasional historically-accurate version in a Nancy Bush pattern, but that was it.
Meet the socks that turned my world upside down:
Little Arrowhead Lace Socks
Pattern:
Little Arrowhead Lace Pattern
, by Nancy Bush (free online)
Yarn:
Artyarns Supermerino in pink varigated
Needles:
Brittany Birch US 3 dpns
Notes:
I changed the top to a picot hem, the heel to a short row heel, and then, because I was sitting in a history lecture and feeling extra-spicy, I did my first-ever short row toe. Awesome.
Best Thing About This Project:
Do you think
Susan
likes them? I'd say so.
Check out the cute cute grafting along the toe:
I love grafting. It boggles the mind that I can sew a row of knitting. And it works. (And I love the macro funciton on my camera. How cool is that?)
But I do have a problem: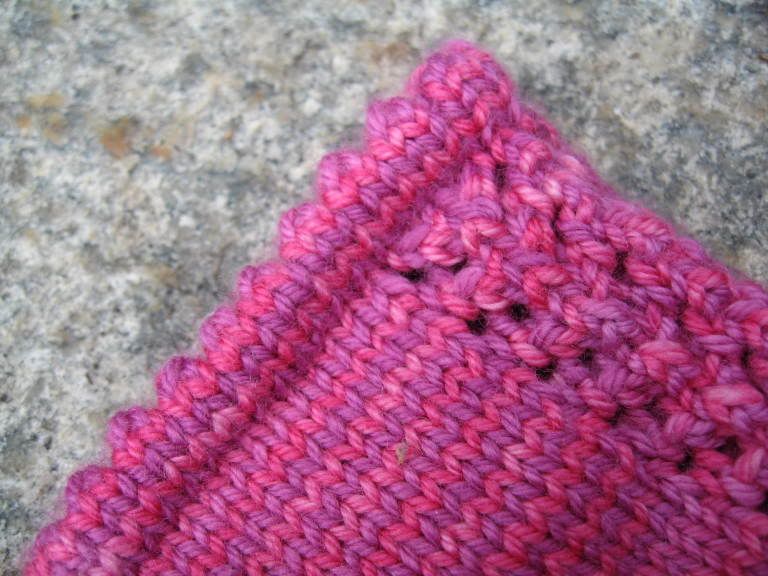 What's up with this hem? (And every other hem of my recent provenance?) Why does it stick out at a funny angle perpendicular from the sock? I thought it would get better with blocking, but it didn't fix it all the way.
Anyone with experience with hems - of any sort -
please help
. I'm in the middle of a major life change (with regards to sock knitting), and I can't do it alone.