Branching Out
Life is the first gift, love is the second, and understanding the third.
-Marge Piercy
You've all heard of
Branching Out
, the lovely simple lace scarf from Knitty a while back, right? It's taken me about a year to get around to it, but a pattern this classic never goes out of style.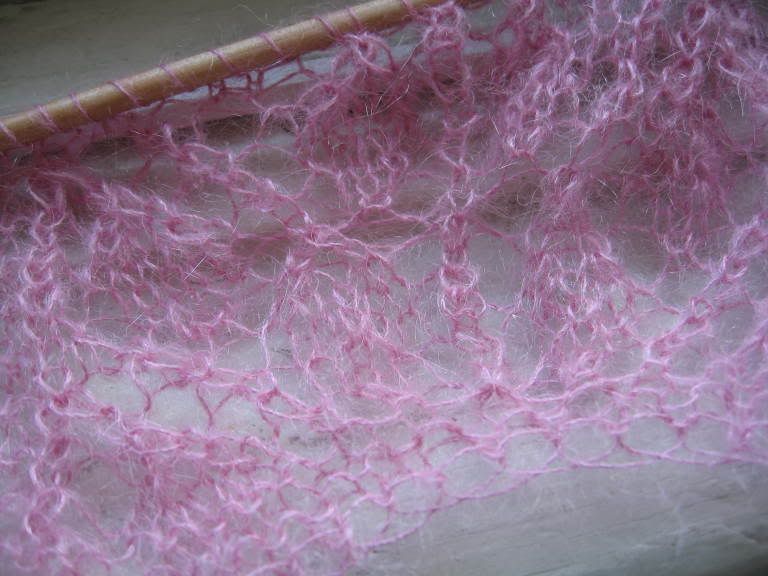 I'm using Madil Kid Seta in a lovely pink that I had left over from the Cherry Blossom shawl (Interweave Knits
Spring 2002
) that I made my sister a couple of years ago. This is the equivalent of the infamous Kid Silk Haze, a silk and mohair blend that is truely otherworldy. It is lovely, although it takes some getting used to, especially on US 8s for a laceweight yarn. As I said, I've had this lone ball of leftover yarn, saw the pattern, and stuck them in a bag together for the better part of a year. I had no particular reason to make this scarf. Until now.
Enter Sarah and Judy Brady and
Purls of Love
. Sarah writes about their purpose more eloquently than I can:
After my mother's recovery from cancer in 2001, our lives began to slowly return to a certain and welcomed sense of normalcy. With the gift of survivorship, however, came the realization that our worldview was forever altered. Out of the basic need to demonstrate our support to other women with cancer, the beginnings of Purls of Love was born.

We knew from our experience how powerful a simple gesture could be. We decided to knit scarves, from funky to functional, and to give these scarves to women undergoing chemotherapy. We wanted each scarf to be as beautiful and unique as the women who would wear them.
I've always struggled with the idea of knitting for charity. I like to knit for people who appreciate it (especially myself). If people need hats to keep their heads warm, it makes more sense to me to buy a whole bunch of warm hats more cheaply and more quickly than I could make them. But now, with Branching Out, I'm branching out into knitting for others.
Purls of Love is not just about staying warm. The very point is that it is a handmade scarf, a sign of someone caring enough to give the work of their hands. It's not that women undergoing cancer therapy get cold necks; it's that they need to feel like women rather than guinea pigs, like humans rather than patients. The gift of a handknit scarf - practical or frivolous - acknowledges that humanity and the woman as distinct from her disease. A scarf has nothing whatsoever to do with cancer, and therein lies the beauty of the gift.
I'm making lace. I hope you'll join me.