Winter Follies, Spring Flings
A little madness in the Spring
Is wholesome even for the King.
-Emily Dickinson
Ladies and Gentlemen, Boys and Girls, without further ado, please put your hands together for the lovely, the talented, the incomparable Winter Folly: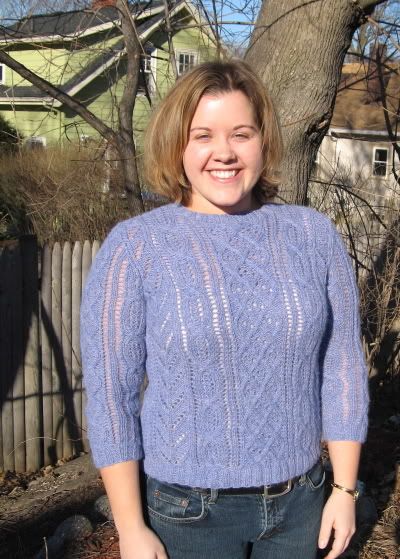 This is Winter Folly's debut into cyberspace as a completely finished sweater, but through no fault of my own. She is a busy sweater, difficult to pin down to a single location long enough to snap some photographs. She looks great with jeans, khakis, and gray trousers, is appropriate for every situation from casual to dressy, and appears to be suited to a wide range of temperatures. Her alpaca-ness is soft and warm, but her 3/4 sleeves and laciness make sure she doesn't get overheated under the bright lights of stardom. In short, ladies and gentlemen, this is a sweater that can - and does - go everywhere and do anything.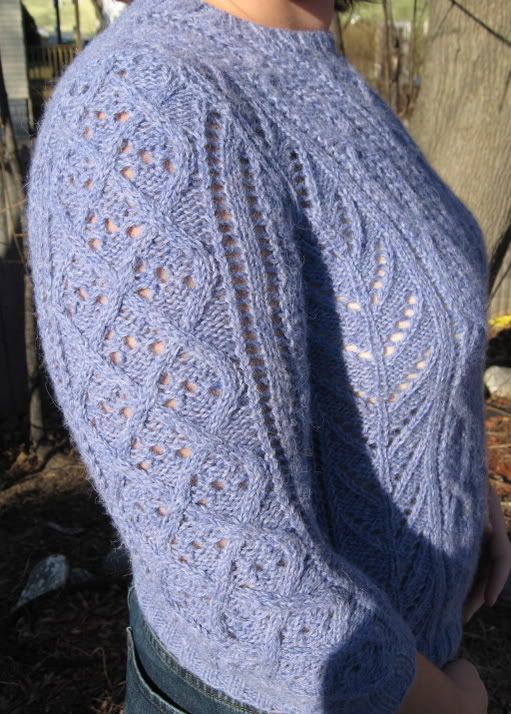 Winter Folly
Pattern:
#2 from Vogue Knitting Fall 2004
Yarn:
Classic Elite Inca Alpaca, 7 1/2 skeins for 37" size
Needles:
Brittany Birch US 5s, and, briefly, Lantern Moon US 5s (remember
the tragedy
?)
Notes:
The pattern is a disaster. Knits and purls are reversed on the chart - with no errata posted! The number of rows in the pattern repeats are 10, 16, and 18 - if I were writing a knitting pattern, they would line up better for ease of knitting, as I don't think the appearance is much affected. I posted about my frustrations with the pattern
here
and
here
, and others have told me that many Vogue patterns are similiarly nonsensical.
Best Thing About This Project:
As my sister put it when convincing me to move it to the top of my list, this sweater is so "me." And it is.