Crowding the Podium
The greatest memory for me of the 1984 [2006] Olympics

was not the individual honors, but standing on the podium
with my teammates to receive our team gold medal.
-
Mitch Gaylord
Rachel already beat me to a full-scale description of the Team College Hill medals ceremony - check it out
here
. It's a beautiful tale of four Olympic knitters with a single dream, and that dream realized:
So let's now admire our very own Olympic gold medals. See the flame? See the rings? How cool is that? I don't actually have that many photos, since I was nominated to actually place the medals on my teammates (again, check out Rachel's photos for all the action). By far the best part of the whole Knitting Olympics was Team College Hill. The fun gatherings, the Thai food, the meeting Rachel, the stardom - it's everything a team should be.
At a moment of triumph such as this, we ought to pause and reflect on the struggles and perserverance that brought us to this point. None of the photos of Leah and her carpal tunnel syndrome demonstration came out, but Exhibit A is on your right: Katja at approximately 11pm EST on Saturday night, as she rewrote the entire final chart for Ene to line up with her new and exciting decrease system. Remember - this is a gal who hadn't knit in years until about 3 months ago - are we impressed or what?
To go from that, the pain, the suffering, the dry hands, and perhaps just a few too many romantic comedies to this:
And this (do note that it was 22 degrees F when we took these photos - just for you folks, just for you):
And this (Can you believe Rachel ripped out inches and inches of the body on Saturday and still finished for her gold? Nothing but the best for Team College Hill!):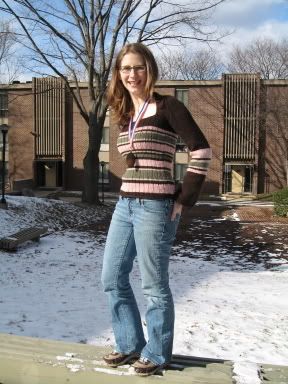 And, last but not least, Am Kamin with her gold. Full details on the sweater - including modeled shots - coming tomorrow. For now I will say that it is stunning in person. It is by far the most beautiful sweater I own, it fits perfectly, the seams are a work of art (if I do say so myself), and I love the collar. Plus, so far I've only identified half a dozen mistakes . . . But I love it.
Notice the mirror image of the helical-type cable on either side of the button band? Perfection.