Concentrate
Concentrate all your thoughts upon the work at hand.
The sun's rays do not burn until brought to a focus.
-Alexander Graham Bell
The absolute hardest part about The Knitting Olympics is the intense focus on a single project. I am usually a multiple-multiple-multiple project knitter. I'm finding a major advantage to the knitting monogamy - it's so easy to keep track of my charts and where I am and how many increases I have, etc. - but my hands are really starting to hurt. I am trying not to get distracted by other knitting issues, as you will note in this week's Knit-Along Update:
The Knitting Olympics

The Ultimate Knitalong Challenge.
Team College Hill
has been performing fantastic feats of knitting athleticism. With 9 days remaining, this long weekend should prove crucial to their success.
Theresa's Am Kamin is coming along. Back done, sleeves (both) half done, front ribbing done.

Leah and Katja are knitting Ene's Scarf, and should

tell us in the comments

(hint, hint) how it's going.

Go here

to see Rachel and her Tubey.

Crossed in Translation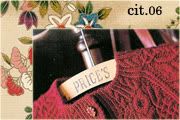 This is it - Am Kamin. The Knitting Olympics. See above.
Stashalong

Valentine's Day was our "free day" and all of my best intentions to ignore it and not buy yarn went out the window when a Super-Secret-Special-Sock project dropped itself in my lap. I bought some lovely sockyarn, and couldn't resist picking up Nancy Bush's
Folk Knitting in Estonia
while I was there. They had a mint condition copy, and this book is now out-of-print. Distractions . . .
Count Your Socks
Add yet another one to my tally! I finished
my 91st pair of socks
this week with the
Gentleman's Fancy Socks
from
Knitting Vintage Socks
for my dad's birthday. After the Olympics, I'm going to start the Nancy Bush fan club. After the Olympics. After the Olympics.
It's Not A Gift

Am Kamin is my size. It's for me. All Olympics, all the time. Focus. Focus.
Knit the Classics

Reading:
February's book is Marge Piercy,
Woman On the Edge of Time
. I have a copy. That's it. Concentrate.
Knitting:
This book is all about insanity. Am Kamin is driving me insane.
Sockapaloooza

Have yarn. Have pattern. After the Olympics. After the Olympics . . .
With that, we return to our regularly scheduled Olympic broadcasting. 9 days, 5 hours, and some minutes remaining. Focus. Focus. Focus.