FOUL PLAY SUSPECTED
In these days a man is nobody unless his biography
is kept so far posted up that it may be ready for
the national breakfast table on the morning after his demise.
-Anthony Trollope

PROVIDENCE, RI
One trusty
Lantern Moon needle
had its life tragically cut short last evening in an accident Olympic officials are calling "senseless" and "a waste." The accident occurred shortly after 9pm, EST, on the couch of a fellow
Team College Hill
Teammate. Theresa shuddered as she recalled: "I only left it alone for a minute as I got up to get some water. When I came back, it was snapped in half. There was clearly nothing I could do."
This needle was part of a matched set, and was relatively new to the world of international knitting competition, having entered the stage a mere 3 weeks ago as a surprise replacement for some Brittany Birch straights that were snagging. Teammate Theresa recalls that "it was a perfect fit. We were all surprised by the glossy smoothness of the needle." Katja noted that she, too, was new to Olympic level competition and that the needles were surprisingly similar to Addis. "But I'm German," she reminded. "I still prefer Addis."
Already gory photographs of the crime scene have been circulating on the internet. Fellow Team College Hill teammates Katja and Theresa are begging the public to let the dead rest in peace, but to no avail.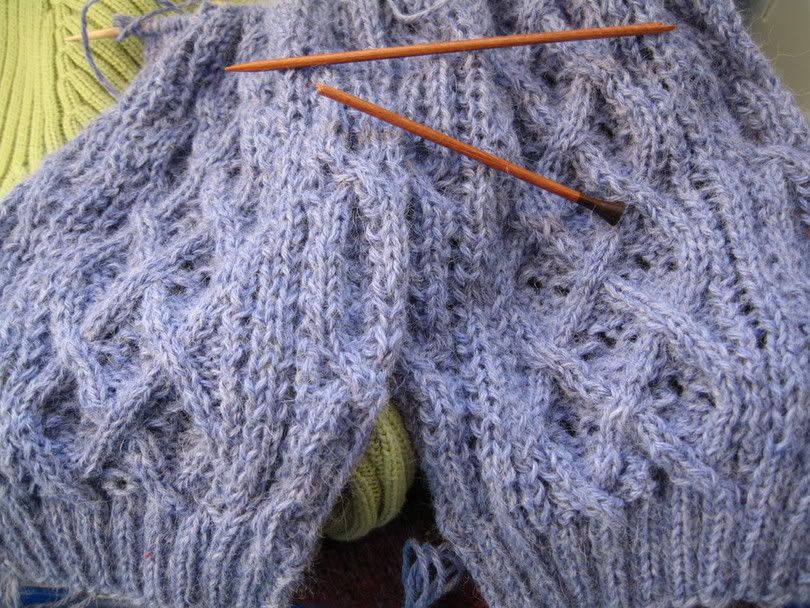 Investigators have reason to suspect foul play, and the security surrounding Team College Hill will be increased for the duration of the Games. "Not since Tanya Harding attacked Nancy Kerrigan have we seen such blatant sabotage of equipment and competitors," one Olympic official who requested annonymity stated. "Losing a needle is bad enough, but many others could have been injured as it broke. We must be on our guard."
This needle had recently returned from an uneventful trip to Florida. It is survived by the three members of Team College Hill, it's matched needle and a set of US5 Brittany Birch straights. The Brittany Birches will replace it in the international knitting competition.
In related news, the two sleeves of
Winter Folly
are at the sleeve cap shaping. Teammates of the lead knitter on the project are concerned that she has not yet finished her swatch for her Olympic project. "Never fear," Theresa responded. "I only have 600 pages of reading to do for tomorrow. Plenty of time."
No stitches were harmed in the writing of this article.