Learning Along
Learning is not compulsory . . . neither is survival.
-W. Edwards Demming
Welcome back to our weekly knit-along update. This week we explore the better angels of our nature and how it is good to learn new things.
Crossed in Translation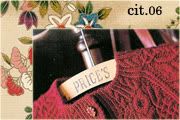 Finally progress: I started the hat. For those of you unfamiliar with the pattern, there's a matching hat that many are using as a gauge swatch. An interesting gauge swatch, since the hat is knit in the round and the sweater flat, but it is a good chance to use most of the main patterns and get familiar with them. Remember - the Am Kamin pattern is in Japanese; my brain is not.
Lesson Learned This Week:
When Nancie Wiseman says that one of the drawbacks of the
tubular cast on
is that it takes "more than an average amount of time" - believe her. I know it was the first time I did it, but 2+ hours for 130 sts is definitely "more than average" for me.
Second Lesson Learned This Week:
aforementioned tubular cast on. It's pretty - Look:
Stashalong

I still didn't buy yarn! But I did acquire some this week. My dad gave me some gorgeous Soy Silk and a shawl pattern to go with it. I think it will make a perfect wrap for those chilly San Diego evenings. I haven't had much of a chance to play around with it yet, but it is incredibly similar to silk, but maybe better - it doesn't have that weird smell. My wool-allergic friends (Hi Roomie!) are going to love this stuff. Too bad for them that I have a firm rule about yarn people give me: It's for me.
Lesson Learned This Week:
Yarn is a great gift.

Second Lesson Learned This Week:
Yarn plus pattern is even better, because then you know you have enough to make something appropriate.
Count Your Socks
Houston, we may have a problem. Remember
that aging stockpile thing
? Full assessment still in progress. Details to follow next week.
In the meantime, sock knitting continues with interval progress.

Lesson Learned This Week:
Wear slippers.

Second Lesson Learned This Week:
Keep your leftovers.
It's Not A Gift

Now that I'm finally making progress on Am Kamin, albeit small progress, I'm working on three sweater projects - all for me.
Winter Folly
continues up the front. I cast on the body for
Rogue
and knit up past the hem pick-up. And now,
Am Kamin
.

Lesson Learned This Week:
Complicated cables and lace is not ideal for knitting groups.

Second Lesson Learned This Week:
I might actually finish something if I didn't work on three sweaters simultaneously.
Knit the Classics

Reading:
I picked up February's book at the library: Marge Piercy,
Woman On the Edge of Time
, so I'm raring to go. I couldn't find an audio version. Anyone?
Knitting:
I finally started
Flora
. I may or may not finish by the end of January, but I'm OK with that. It's a fast and easy project, and the flower looks fun.
Knit 'n Lit Jenn
wanted to know what yarn I was using: Wool in the Woods Whisper (94% cotton, 6% nylon) doubled. It's a fun, slubby cotton that I got on sale.

Lesson Learned This Week:
As a grad student, I can check out books for the entire semester. That's cool.

Second Lesson Learned This Week:
The theme thing would work better if I knit the project while reading the book.
Sockapaloooza

Because I need to knit more socks like I need a hole in my head. This is a sock swap, matches come out February 1st.

Lesson Learned This Week:
I'm really am a joiner.

Second Lesson Learned This Week:
I mean really. I'm a joiner.
So the only question left to us is this:

Should I, or shouldn't I?