Counting Backwards
He may be president, but he still comes home and swipes my socks.

-Joseph P. Kennedy, on his son John
I get a lot of comments from you folks about
how I knit so many socks.
Simple, really.
I went to med school.
First and second year are pretty much straight lecture, some small group stuff, for 35+ hours a week. Then there's all that studying, looking over lists and charts and diagrams over and over and over, and reading from BIG heavy books that conveniently lie flat all by themselves. I knit about a pair and a half of socks a week for nearly two years.
It adds up.
When
Lynda
started
Count Your Socks
, I was excited. Everyone should have a drawer (or box) of handknit socks. Except for white cotton socks for running, I haven't worn anything else in 3 or 4 years. (I even have a small collection of really boring black stockinette and ribbed socks to comply with Navy uniform regs.)
In the midst of all that excitement, however, was a lingering fear. A fear that my sock collection, like the former-USSR's nuclear weapons program, represented an aging stockpile that was increasingly difficult to keep tabs on. I lost track of a pair of Kureyon socks that match my favorite sweater when I was in Providence in November, and they were MIA for a whole month. We are still waiting to be reunited, although it is a great comfort to know they are resting comfortably in the home of friends. Then I inadvertently left a pair of socks behind on my recent trip to Seattle.
Kate D.
was kind enough to mail them back, but, what if they had ended up in Iran? Or North Korea? Or small unmapped Pacific atolls?
Then, my worst fear came true: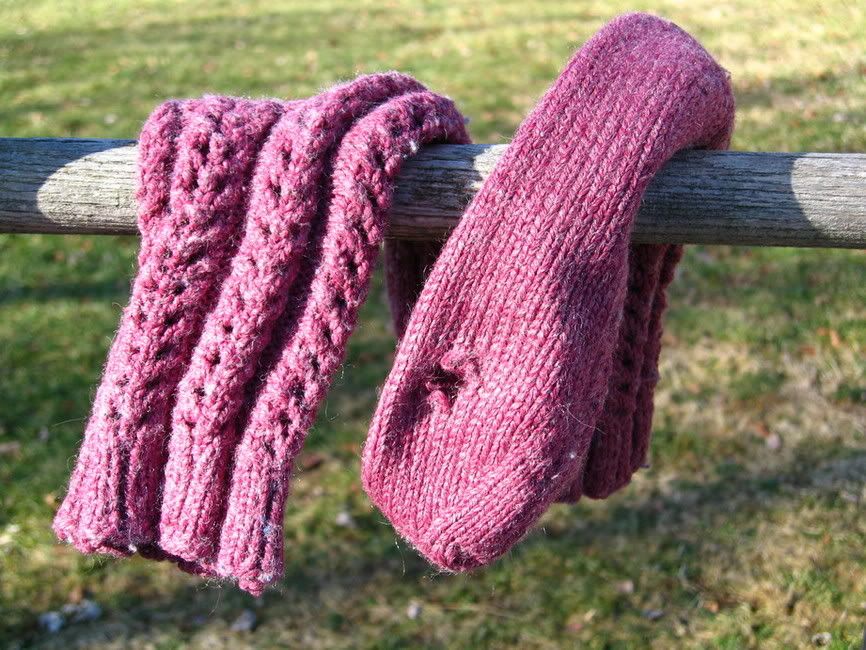 I'm counting backwards.
See those socks over there? See the big whole? Yeah, they're done. Toast. Gone to the other side. Put out to pasture.
The socks I don't miss much. They're one of the first 5 or 10 pairs I ever made. I remember working on them in the car on the way back from PEI, Canada Spring Break of my senior year in college, which makes them about 4 years old. For socks made out of Wool-Ease (really NOT a sock yarn), that's pretty good. It's some lace gull pattern that stretches a lot, so they've always been comfy house socks, and they've already been darned at least twice. Fine. I've lost socks before. My feet are still warm. Really, I'm sorry not for me, but for the socks.
These late, little-lamented socks will never get to know this: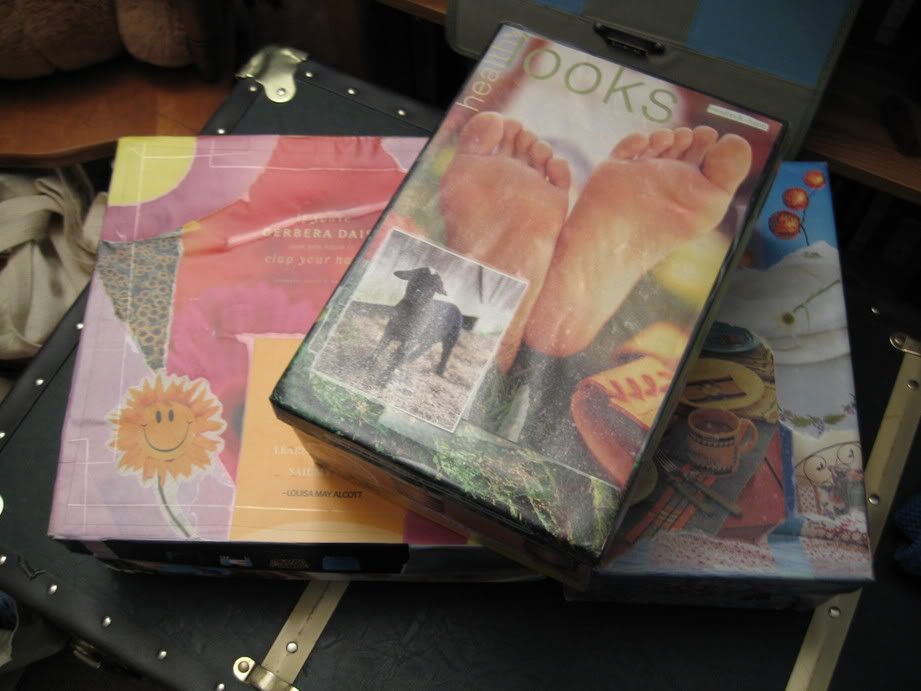 Remember my original two boxes o' socks? Beautifully collaged just for me by the crafty (but tragically non-knitting) Kate D? She made me another one. Want to see more angles? Of course you do.
Here we see the two main sides of the new box, with the inside cover of the old box (cowboy boot). Check out the sexy doctor chica on the new inside cover. How cool is that? The yarn. The sea. The flowers. The knitting. I have it on good authority that the sources for these photos and quotations range from
Glamour
to
National Geographic
.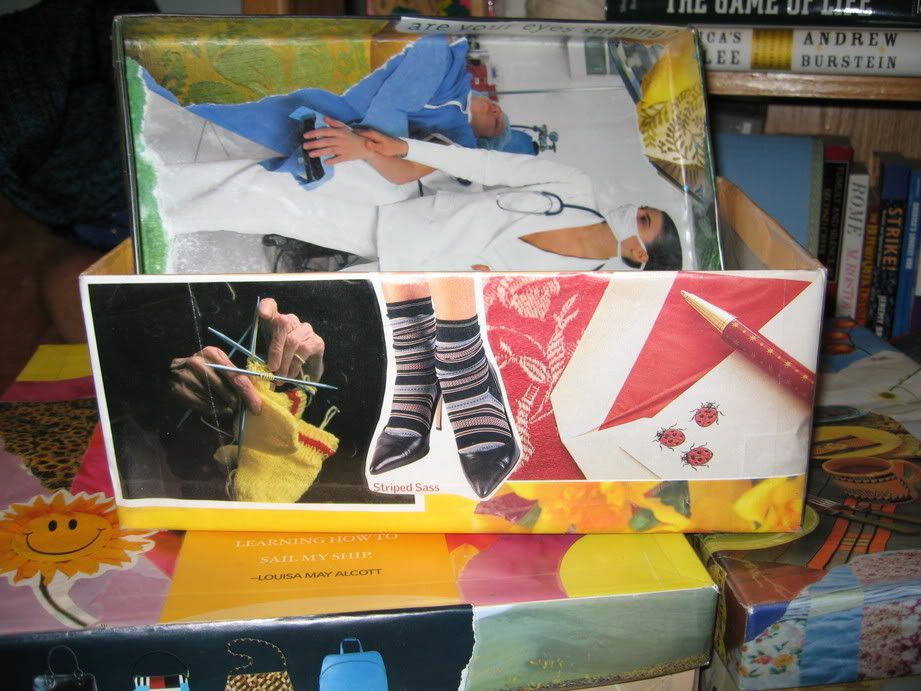 This new box has a beachy theme going on, recalling good times down the Jersey Shore wearing cute toenail polish but a real lack of footwear more sophisticated than flip-flops. She has a sense of irony, that girl. In honor of the yarn-beach theme, I'm dedicating this box to my cotton-blend socks, a group sure to see an increase in their numbers as I head off to Southern California. And beaches. And definitely red toenails.