Committment Issues
Time on time revolving we descry;
So moments flit, so moments fly.
-Ovid, Metamorphoses
I have committment issues. Ask any of
my friends
. Ask
my mom
. Ask my knitting projects.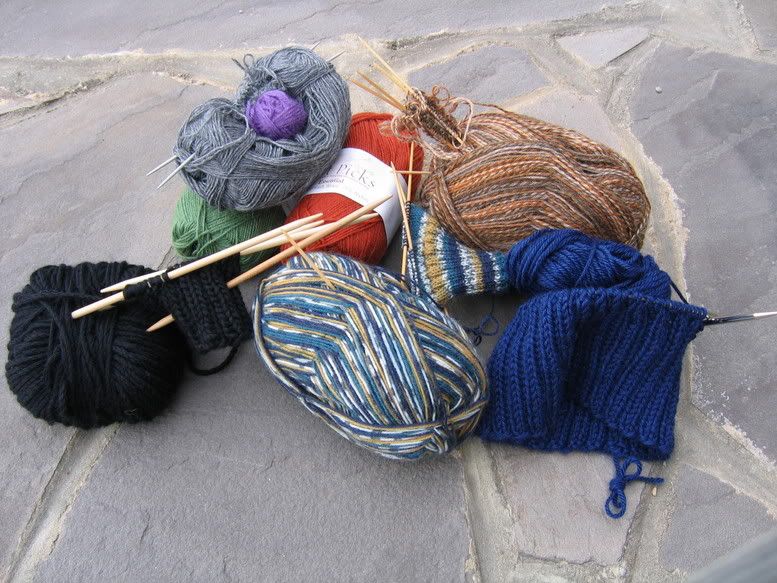 Meet all the little projects. Clockwise from left:
Black bulky mittens for my sister, per her request. These are actually several inches longer since my trip to the post office yesterday. Like everyone and their mama's aunt's boyfriend's cousin, I needed 2 cent stamps. I did

2x2 ribbing

.

The Dreaded Argyles. Note that they are still skeins of yarn with some

2x2 ribbing

in gray. Like the colors?

Gentleman's Fancy Socks from Nancy Bush's amazing new book of old sock patterns. GGH Marathon. The yarn kind of stripes. It's cool. The pattern is - get this - a variant of

2x2 ribbing

.

Star Hat from Beadlizard in Andean Silk. Lovely yarn to work with. Doesn't show cables well. Still, since nearly the entire project is 2x2 ribbing and the cables are at the top of the head of a man who is 6'3" (or 6'4"?), the main effect is

2x2 ribbing

.
Trekking XXL socks. I started with

2x2 ribbing

and switched to st st, but realized that the socks look amazing in ribbing and not-so-amazing in st st. Oh look - a whole 'nother project of

2x2 ribbing

!
Maybe I'll give a prize to the first person who spots the theme here . . .
The sidebar grows longer and longer. The progress bars remain stubbornly attached to 5%, 10%, 15%, with nothing moving forward except Christmas ornaments and baby booties. After my
end-of-season push
to get projects off the needles, I spend all of January (so it seems) doing 2x2 ribbing to start new projects.
Thank goodness for my
Rogue
with a 6 row hem and fascinating cables right off the bat. And more on the fun of
Winter Folly
tomorrow.
Argyle Update
Thanks for all the comments and emails. I'll respond personally later today. The general consensus seems to be that the argyle diamonds have to go all the way around the ankle to be considered "traditional" - not only that, they have to meet at the seam and look seamless. Start loving the argyles, because they have many miles to go before they sleep.