One More Spin Around the Sun
The sun, with all those planets revolving around it and dependent on it, can still ripen a bunch of grapes as if it had nothing else in the universe to do. -Galileo Galilei
We've already noted my
obsessive-compulsive
organizational tendencies
here
. I assured you that it all started before the blog. But you wanted proof. I present the tallies of finished projects for 2005, with relevant comparisons to 2002, 2003, and 2004.
The final photo of 2005: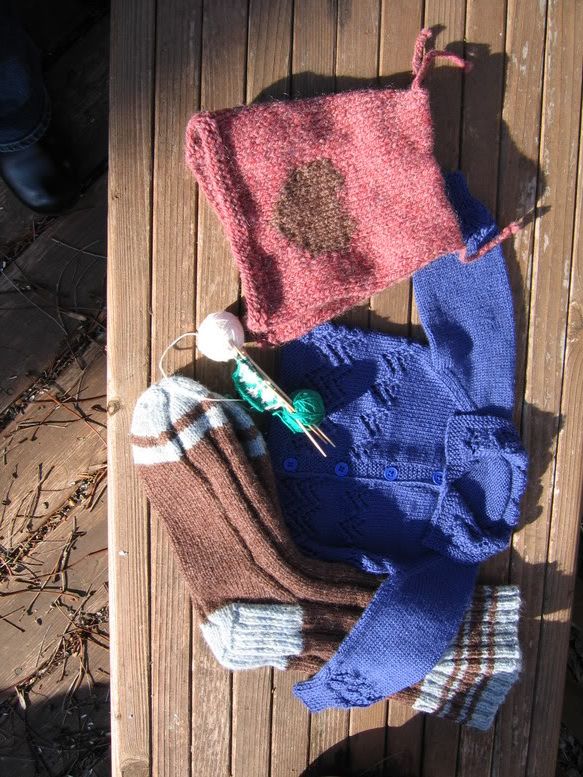 Clockwise from left: Heart hat, Dale lace baby
cardigan
, Toasty Toes
socks
, and a new
ornament
.
The 63 knitted objects of 2005:
19 pairs of socks
7 Christmas ornaments
7 hats
5 baby hats
4 pairs baby booties
3 adult sweaters
3 baby sweaters
2 cell phone cozies
2 dishcloths
2 scarves
2 pairs of mittens
2 lace shawls
2 sachets
1 baby blanket
1 area rug
1 pair writst warmers
and a partridge in a pear tree

In 2004, I made 28 pairs of socks, but only one adult sweater. In 2003, I made 20 pairs of socks, and in 2002, 22 pairs. Thus, I've made 89 pairs of socks total, so the Canal du Midi pair gathering dust over there on the sidebar is my 90th pair. Should we start planning the party for pair 100?
Happy New Year. May your needles be slick, your yarn toasty, and all your seams straight in 2006.