The Weather Outside is Frightful
If your head is wax, don't walk in the sun. -Benjamin Franklin
Cold, rainy, very overcast and dark. And so new photos will have to wait until tomorrow. For now, here's an 2-day-old photo (is that like 2-day-old bread?) of the baby sweater I finished in the wee smas last night: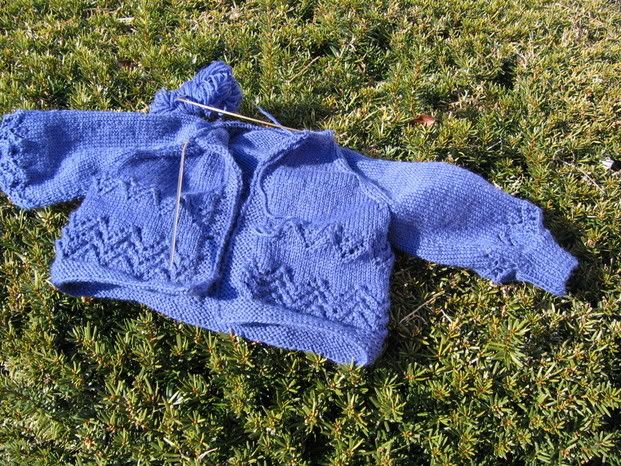 Dale Lace Baby Cardigan
Pattern:
Dale pattern book, can't remember which, 12 mos size
Yarn:
Dale Baby Ull
- ymmm . . . fingering weight superwash wool - anyone ever use this for socks? Less than 2 skeins
Needles:
2.75mm Addis
Notes:
Pattern called for 2.5mm needles, but I rarely swatch for baby projects. I plunged ahead, noticed that it was too big, and then re-started with the 6 mos numbers for the 12 mos size. See
here
for collar trauma.
Best Thing About This Project:
There are many contenders - the admiration of my fellow travelers (on the plane! sheesh, what were you thinking!), the quickness and light of a baby sweater, the classic look of it all, the lack of
trauma with button bands,
reconnecting with an old friend to find that he and his wife are expecting their first child, there are so many options. But really, the best thing about this project was deciding late last night, that
it doesn't need a matching hat
. That's right folks. The pattern calls for a cute little cap, a bonnet really, with a ribbon and everything. I cast on for it, knit a few rows, and decided that my cardigan was actually kind of modern looking. A bonnet would just be fussy. And the proud parents-to-be?
They'll never miss it.
(The pattern also calls for a "one-piece suit" to go underneath. I never had any intention of making THAT.)
Again, I present a 2-day-old photo of a project finished in the rainy grayness that precludes good photo taking:
Toasty Toes Socks
Pattern:
IBH's Toasty Toes Socks from the
Green Mountain Spinnery Knitting Book
Yarn:
Yarn for Sox (brown) with 2-ply from
MacAusland's Woolen Mills
on PEI accents (blue)
Needles:
US 4
Brittany Birch
dpns (have I convinced you yet that these are the best thing since sliced bread?)*
Notes:
Pattern calls for 48 sts, but that fit me, and I was skeptical that it would have fit a larger man with legendary "wide feet," so I re-started with 56 sts and adjusted the heel and toe accordingly.
Best Thing About This Project:
They sprung out of an extensive conversation at last years' holiday festivities about the many joys of real handknit WOOL socks. They are a surprise gift for someone who doesn't expect a gift from me.
Isn't that fun?
The race to December 31st continues.
Lynda
thinks the heart hat is a lost cause, but I think I may be able to bang that out today. I want to finish the first sock of the Canal du Midi socks, and then I think the second sock and the leaf lace scarf will round out my NYC-for-the-New-Year knitting. As for the stuff on hold,
I hear it likes elevator music.
*People always say "the best thing since sliced bread." I never got it until I started making (and slicing) my own bread - very hard it to get nice and thin and even. They know what they're talking about . . .