A Changed Woman
A house is no home unless it contains food and fire
for the mind as well as the body. -Margaret Fuller
I return home a changed woman. No longer adrift in an uncertain world, I now know with certainty that knitting irony is the driving force of the universe. Why wouldn't I match in
San Diego
- after all, I've recently finished a bunch of heavy wool sweaters. (And if that is the Alanis Morrisette definition of irony rather than real, literary irony, well, I'm sure
one of my brilliant friends
will correct me.)
No longer bundled up in cables and stranded colorwork in Shetland and Romney with a little Merino closer to the skin, I am now the sort of woman who wears cashmere and silk,
with holes in it.
Favorite wool sweaters
not withstanding, I'm jumping-out-of-my-chair excited about going to San Diego (in June, for those of you not on a medical calendar). The
crazy Type A
really nice people I'll be working with have sent around lists and started newsgroups, and some of us in New England are planning to get together and
enjoy
our last snowy winter for some years. And
people wonder why
San Diego is the most coveted Navy hospital (yeah, yeah, they have the entire Pacific Fleet, too). . .
So, forgive me if I haven't been entirely focused on my Christmas knitting. In fact, I didn't take any potential Christmas presents to Seattle. Instead, I knit for me. Exhibit A, currently blocking on your right:
Ene's Scarf
Pattern:
Ene's Scarf from
Scarf Style
by Nancy Bush. She listened to Estonian folk songs while knitting this. I listened to Johnny Cash. Are we sure I'm the sort of gal who wears cashmere scarves?
Yarn:
Hand-dyed 87% cashmere 13% nylon from
School Products
in purples and pinks. The green of the carpet is seriously interfering with the colors. Better photos tomorrow. Roughly fingering weight. About 85g.
Needles:
US 7 Addi Natura 40" circulars. My first Addi Naturas - loved the join, loved the needles, loved the cable - way better than the Crystal Palace and Clover bamboo circs. Pattern called for US6, but I actually swatched.
Notes:
Fun, fun, fun. Easy, easy, easy. This scarf is knit from the long side, so the rows get shorter and shorter as you go. It called for a three-needle bind-off for the last 18 sts, but I grafted them together instead. Good times.
Best Thing About this Project:
The Shawl Progress Calculator from
Rose-Kim Knits
- it's an Excel file into which you input the total number of rows on your triangular shawl, and it breaks down by row how close to done you are. This saved me from panicking when I finished the border and had used about 25% of my yarn. I was actually 28% finished, and, in truth, I ended with yarn to spare.
Exhibit B: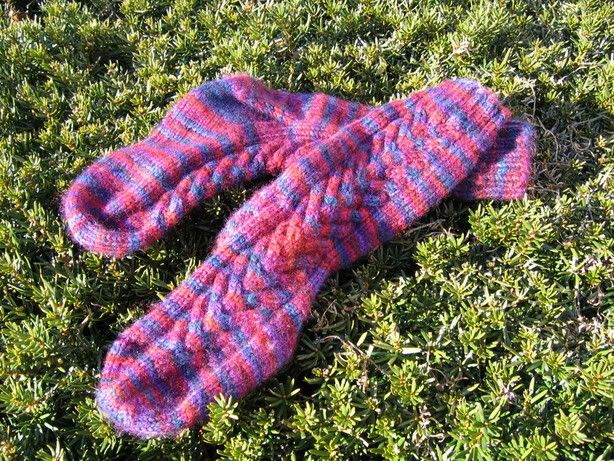 Staghorn Cable Socks
Pattern:
um, mine. 48 sts.
Yarn:
Mountain Colors Weaver's Wool Quarters in "Crazy Woman" colorway, approx 80% of 1 skein.
Needles:
Brittany Birch US3 dpns
Notes:
Tell me the cables look better pointing down than up. Tell me, tell me. I ripped back half a sock to change that.
Best Thing About This Project:
You can't tell, but they're wet in the photo. Wet because they've already been washed. Already been washed because I finished them in time to wear on the plane home. Ooh, yeah.
Exhibit C, to prove that I have good motives, too: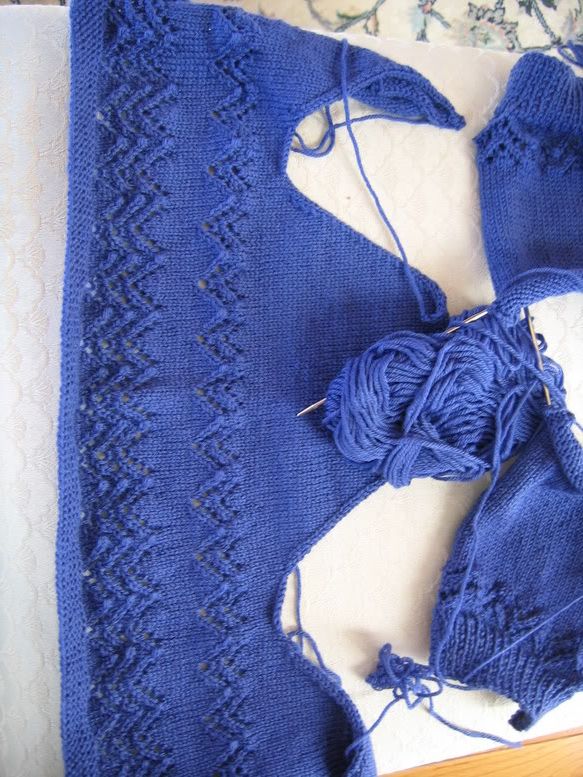 This is a baby cardigan from a Dale book I can't recall off the top of my head. It has lace. Raglan sleeves. It is in fingering weight. I always scoffed at people who wanted to make bulky weight baby garments. I mean, they're so small, right? But seriously, what kind of baby sweater has 60-odd stitches in EACH SLEEVE? After working on the sleeves for the entire transcontinental flight, I was feeling less-than-inspired about baby garments. Even the admiration of the flight attendant and the woman across the aisle from me (both knitting F*nF*r scarves) was not enough.
Then I opened a week of accumulated mail to find . . .
The Best Thing About Knitting. Period.:
Friends of mine dressed their two sons in MY sweaters for The Official Family Christmas Portrait of 2005. Guess who will be getting lots more knitted stuff in the future?