Twice as Nice
Lord Illingworth: All women become like their mothers.
That is their tragedy.
Mrs. Allonby: No man does. That is his.
-Oscar Wilde
My mom gives great hugs. Always has, ever since I've known her. (The astute amongst you will realize that she is my
mother
- clearly I've known her since the second I was a little spec of anything. So then, why has it never occurred to me that, in order to give these great hugs, my mom probably (confirmation to follow), probably had two arms?
I present two sleeves:
Two arms may be twice as nice as far as hugs are concerned, but when knitting two sleeves simultaneously, well, um, right. At the top I had 104 stitches in each sleeve, for 208 total. Why is it more painful to knit 104 stitches twice than 208 stitches altogether? It was easier to do the entire cardigan body in one piece than to do these sleeves, and methinks the tangled 4 balls of yarn was only a small contributing factor. I think it has to do with getting to the end of the row and having to do it all again.
Now that all of our knitting on the
Green Mountain Spinnery
Norwegian Roses cardigan is completed - Huzzah! - We are feeling a sight more relaxed over here in our Knitting Underway world. This is the first adult sweater I've made for someone who isn't me, so I'm a little anxious about the fit (although you will all note that it is an unfitted drop-shoulder cardigan). My mom wants to wear it for Christmas and - in spite of the fact that I will be out of town for 10 of the 18 knitting days before Christmas - I think we're going to make it.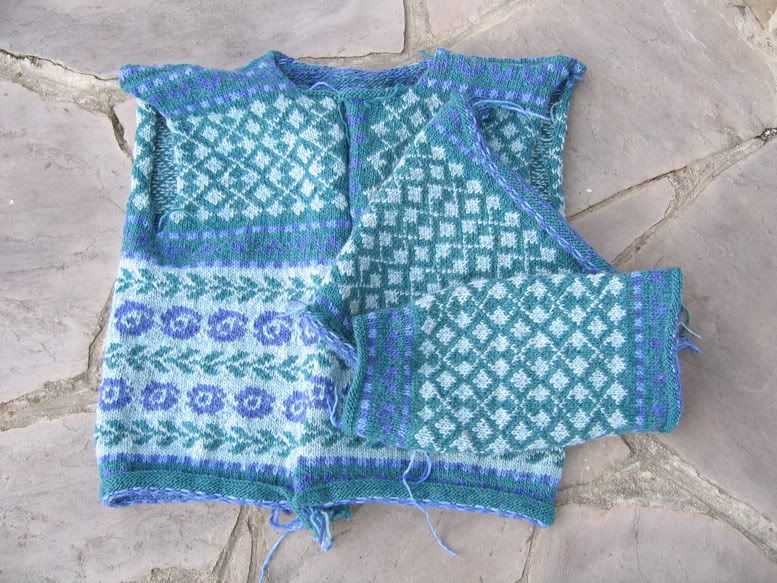 Think of what a great hug that will be when my mom is wearing a beautiful sweater handknitted by me!
*The thesaurus gives "honest injun" as an alternative to "actual." It is an interesting world we live in, isn't it?