Concrete Knitting

Follow the fold and sin no more, sin no more, sin no more
-Guys and Dolls
I have seen the light. I am a changed woman. I have changed my errant ways.
I have been knitting.
What, you say, knitting? Impossible! (accent: French) How can that be?
Well, I reply, ever-so-humbly, this is a knitting blog.
But before we see our acutal knitting, let's look again at just how much we're having wearing handknitted things made of wool in the snow: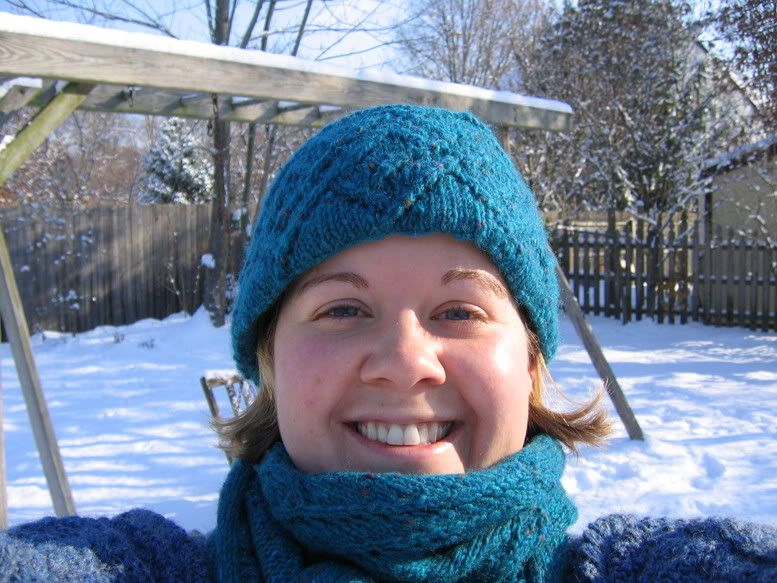 Ohh, ahh, the crowd is amazed. What kind of fine sweater is that we see?
That is a very fine sweater, of my own design, made of wonderful warm Canadian wool from the aforementioned
MacAuslands Woolens Mill
on a delightful trip to PEI where we also experienced the
windiest point in Canada
.
It is so wonderfully warm that around Philadelphia this morning it qualifies as a coat. Of course, I started getting chilly when I took off my sweater to get a good photo, and no amount of wonderful Lopi mittens (the inside is dry when the outside is wet! fun furry halo of wooly goodness! and people wonder why I want the Navy to send me to Iceland. . .) could keep me warm, especially when I took them off to take more photos. Maybe blogging is not very good for one's health?

Acutal factual knitting
To the extent that my erratic knitting and blogging practices have allowed, you've learned that a) I have some Christmas knitting to do and b) I have been playing with yarn instead. Recall that I have mended my errant ways (does anyone else hear
Sarah Brown
in the background?), and witness the sleeves of the Norwegian Roses Cardigan:
You will note that they are longer than
previous
. In fact, they are currently longer still, as the observant will note the lack of snow in that outdoor photo. Here's a close-up of the color pattern:
I should be able to finish the sleeves tonight, and then move onto sewing, buttons, and - the bane of our collective colorwork existence -
weaving in ends
.
Sit down, sit down, sit down, sit down you're rockin' the boat . . .