Scrapbook
Knit-a-longs of Days Gone By:
Who Wouldn't Love a Handknit Gift? (Nov/Dec 2005)
I got a gold star for finishing 5/5 Christmas gifts:
Norwegian Roses Cardigan for mom
Toasty Toes socks for my uncle
Heart hat for Simone
Striped hat for my brother
Silk Garden hat for theflitgirl
It's Not A Gift (Jan/Feb 2006)

Since I've knit almost exclusively for myself since Christmas, I think I more than held up my end of the Not a Gift bargain. It's been all about lovely sweaters for myself:
The Knitting Olympics (Feb 10-26, 2006)

Team College Hill and our Knitting Olympic spirit was fabulous. A tour of the
February archives
is pretty much all Olympics, all the time, but
here
are the photos of our gold-medal projects.
Crossed in Translation (Feb 2006)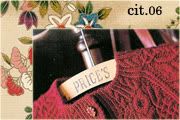 My Olympic gold-medal winning sweater was Am Kamin for the Crossed in Translation knitalong. Many thanks to Cara at
January One
for introducing this sweater to the knitting world. I love it more than words can say. Final comments are
here
, but don't be suprised if it shows up in every photo of me you ever see. It's that amazing.
Stashalong (Jan-March 2006)

The whole point was to a) knit from stash and b) not buy yarn. I did a great job with the first, and an-almost great job with the second. The deal was up the 31st of March, but I found myself in Germany buying sockyarn on March 29th. Tell me the truth, wouldn't you have?
Count Your Socks (Jan 2006 - present)
I started with 89 pairs of socks in
my box o' socks
, and then began adding
90. Canal du Midi socks from
Knitting on the Road
91.
Gentleman's Fancy Socks
from
Knitting Vintage Socks
92.
Little Arrowhead Lace Socks
by Nancy Bush
93. Friday Harbor Socks from
Knitting on the Road
94. Birch Leaf Lace Socks by Nancy Bush from
A Gathering of Lace

Knit the Classics (Jan 2006 - present)

January:
Virginia Woolf's Mrs. Dalloway,
Checks and Charms Hat
February:
shortcircuited for the Knitting Olympics
March:
shortcircuited for my ER rotation
April:
shortcircuited for my European vacation