December 24th
Elves are cool, man. -Orlando Bloom
We here at chez Knitting Underway have just given the elves a run for their money. Take that:
See those buttons? Ten of them. Just like there are supposed to be. In one of our many incarnations of
the button band
we had eleven buttonholes. Otherwise it was perfect. But since I only had ten buttons . . . Not so much.
Chris
and
Diana
worried that I might have jinxed myself in that last post, taunted the knitting gods as it were, by saying "What can go wrong with buttons?" Fortunately, I think everything that could have gone wrong did before that post.


Norwegian Roses Cardigan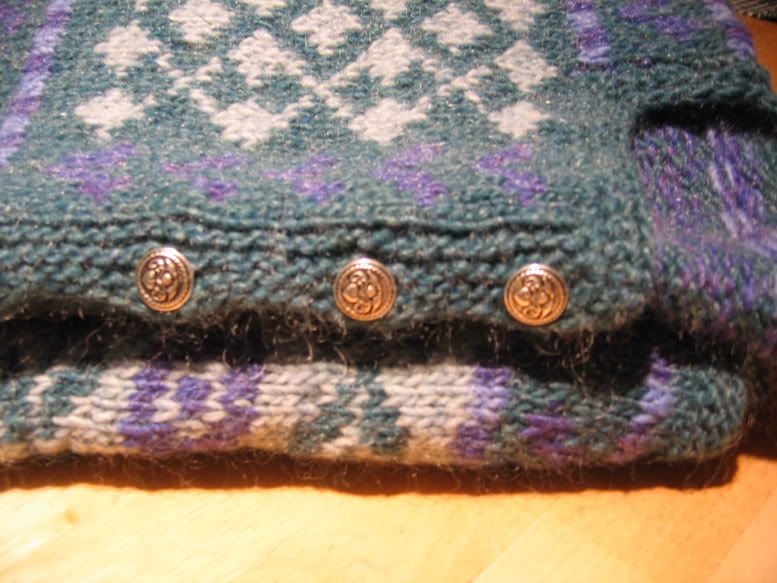 Pattern:
Norwegian Roses Cardigan from
The Green Mountain Spinnery Knitting Book
, size large
Yarn:
Green Mountain Spinnery
Mountain Mohair
- what a joy to work with. Note that I bought the required amount of yarn and was left with 1/2 skein each of the dark green, the wintergreen, and the periwinkle, but had 1 3/4 skeins left of the dark purple
Needles:
US 7 (6 for the bands), random bamboo circulars, and a size G crochet hook
Notes:
This was my first large-scale colorwork project, and it was a great one. The pattern and color charts were easy to follow and clear, the patterns were intuitive, and the yarn so nice. I really don't have anything bad to say about this project.
Best Thing About This Project:
pending until tomorrow
Merry, Merry.