Once For Yourself
You only live twice, or so it seems.

Once for yourself, and once for your dreams.
-You Only Live Twice, Sean Connery is Bond, 1965
Once for Myself
A glamour shot of Ene's Scarf on The Official Shawl Backdrop Bench (TM):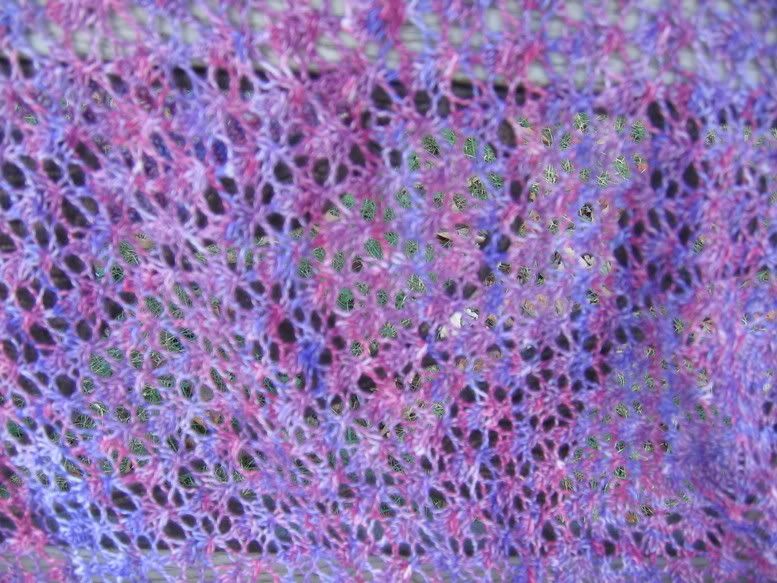 And a close-up of the stitch pattern of the body. Is this similar to the Snowdrop lace pattern? It's very simple. Stockinette ground, even rows purled, and an 8-row repeat that is really just two different RS rows off-set by half. Details in
yesterday's post
.
Once for My Dreams
There's something delightful and decadent about waking up, making coffee, and turning on a full-length feature film first thing in the morning. Especially if it's 007. Makes me think of snow days and "sick days" and other good things. But there's something so not decadent about ripping out button bands for the 7th time. Think the 007 had something to do with it?*
Last night, before life got serious and deadly with Bond and the Japanese ninja force, last night when life was still a Broadway musical starring Sky Masterson and Nathan Detroit, when we were happy . . . Last night I set out to finish the Norwegian Roses cardigan for my mom. You know, the cardigan she wants to wear on Christmas Day. THIS Christmas Day. The cardigan only lacking button and neck bands. THAT cardigan.**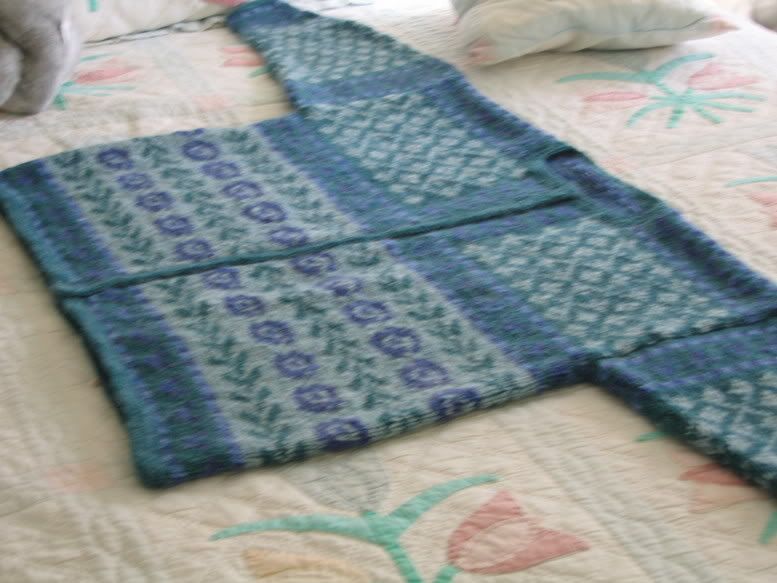 The pattern called for a 4 row border of single crochet going up both front edges and the neck. I should have taken photos of the disaster that ensued.
I do not crochet.
It's not a moral issue; it's a statement of fact. My crochet gauge was all over the map, my ratio of picked up stitches to the edging had no basis in reality, and - to add insult to injury - I attempted to do it four times before calling it quits. Perhaps it is cases such as these when blocking pre-finishing is indicated?
Then I realized that my first instinct was correct: this cardigan was crying out for garter stitch bands. The bottom bands were garter, and, while it would not be quite as bullet-proof as (parts of) my single crochet, this is my mom we're talking about. Instead of realizing that I was so sleepy my eyes were only half open, that I have never (and how can this be?) made horizontal garter stitch button bands, or button holes in them, and that my movie was over, I was determined to perservere, well into late night re-runs of every kind of Law&Order imaginable.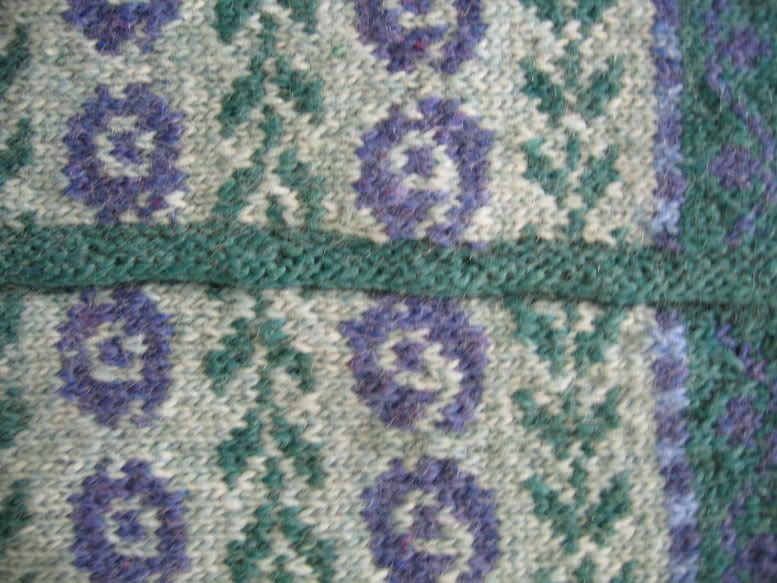 That would be attempts 5, 6, and 7. I ended up deciding to do each front separately and then the neck last, mostly because there would be less work to take apart each time I messed up the picking up stitches, or the buttonholes, or anything like that.
Nancie Wiseman's book
was invaluable.
And then, by the light of day, look what I did with the neck band: Single crochet. Looks pretty good, actually. All it needs now is to dry before Christmas Day, and buttons. And what can go wrong with buttons?
*Fun fact: When I was taking
Step 1 of my medical boards
, my "applicant registration number" began with "007." Since these are medical
licensing
boards, I took my
license to kill
number as a good omen. (Not, of course, that I
try
to kill people. Still. It
is
a medical license.) Since we're talking about boards, go congratulate
Kristen
on passing hers.
**Bonus points for anyone who can identify the mistake in the color stranding pattern here.