Yarn By the Gallon
Thus the metric system did not really catch on in the States, unless you count the increasing popularity of the nine-millimeter bullet. - Dave Barry
Prologue: Apologies for the lack of photos on the blog this week - I've been visiting in Seattle all week. There's been good knitting so photos coming up Tuesday. Tomorrow I fly. I guess I'd better get used to this West Coast thing - I found out this week that I matched in San Diego for residency. Starting in June, all my radio station call signs will being with "K." And maybe I need to reconsider some of those wool sweaters next on my list . . .
This year is a rather peripatetic one for me. Fourth year of medical school is mostly electives (you'll get there,
Kristen
!) , and as a med student in the Navy, I had to do some of my electives in Navy hospitals. As there are none in Providence, I was travelling for several months, and then on vacation for several more.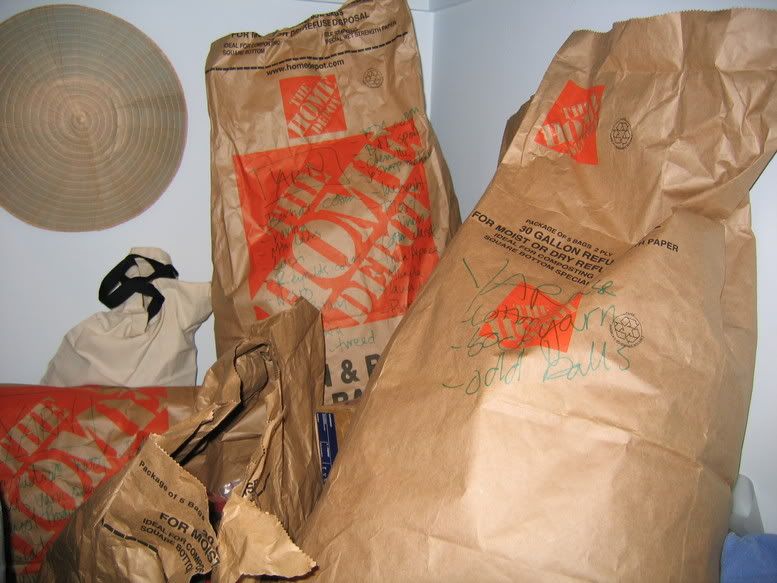 So I packed up my apartment and put it all into storage for the year, with things I might need access to stored in my room at my parents' house. (My parents are very wonderful and forebearing people.) Look right. This is my brilliant storage system for my yarn stash: Those are the 30 gallon lawn and leaf bags from Home Depot (and people wonder why
I measure my stash in gallons
) with some lavender soap bars mixed in. This is a far cry from the lovely (I don't have photos, but it really was lovely) system of baskets and empty cranberry boxes that held my yarn in my apartment. It also makes it difficult to find what one seeks. (Have you ever wondered how much fun it is to empty a 30 gallon bag of yarn onto the floor? I don't. Not anymore.)
I made a list, checked it twice, and made kits out of my yarn stash. I figured out what yarn I had that went with patterns I had that I wanted to make, photocopied the pattern, and put them all together in a big Ziploc bag:
Pint = mini-projects (pillowcloth edgings, heart sachets)
Quart = socks
Gallon = shawls, scarves, hats, socks with multiple colors
2-Gallon = sweaters
I was astounded, but most adult sweaters can fit everything into a 2-gallon ziploc. I have been even more astounded by how effective this has been for a schedule as fragmented as mine. Going to San Diego for month? One
lace shawl
, one pair of socks, good to go. Going to Norfolk for a month? A
colorwork sweater
, another
pair of socks
, check. New York City for the weekend? A
lace scarf
will fit in my purse. Martha's Vineyard the next weekend? Continue lace scarf, add hat. Seattle for ten days? Put aside your Christmas gifts, take a baby sweater, a lace shawl,
some simple socks
. Love the direct flights.
So,
how many hours do you think it took me
to find
these 2 balls of yarn
when I realized I needed them for a hat?