Two for My Family
If you cannot get rid of the family skeleton, you may as well make it dance.
-George Bernard Shaw

Welcome back to another installment of FOs (finished objects) for documentation purposes. The birthday socks for my dad have finally arrived at my parents' (OK, OK, I finally got to the post office) safe and sound, so let's talk details.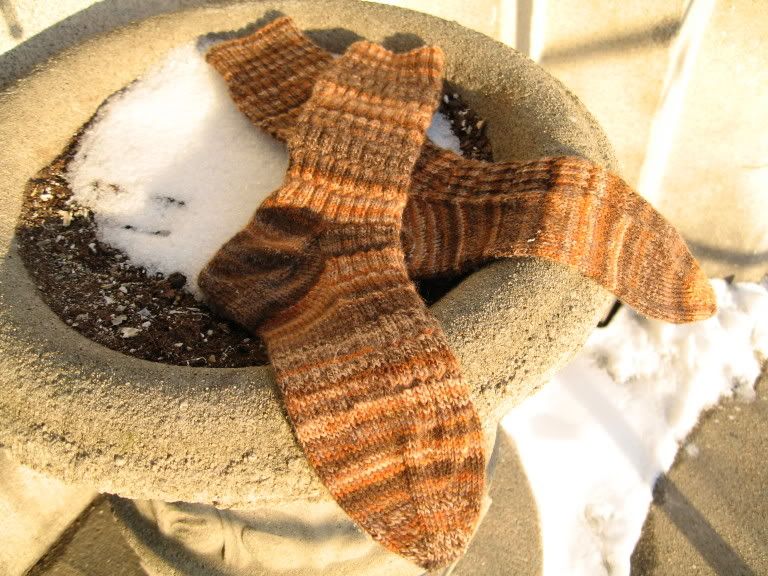 Birthday Socks for Dad
Pattern: Gentleman's Fancy Socks by Nancy Bush, Knitting Vintage Socks
Yarn: GGH Marathon sock yarn, ball band long gone
Needles: US 1 Brittany Birch dpns
Notes: I have a standard sock pattern in my head that I usually plug most stitch patterns into, but not Nancy Bush patterns. I learn something new in the details every time I knit one of her patterns. On this one, the wide toe actually has you grafting the last stitches together perpendicular to the floor, if that makes sense, creating a band that wraps around the toes. Looks great, and I learned something new.
Best Thing About This Project: Warm feet for my dad, vintage style.

I believe this is the blogging debut for the following - you can see why there wasn't much to discuss.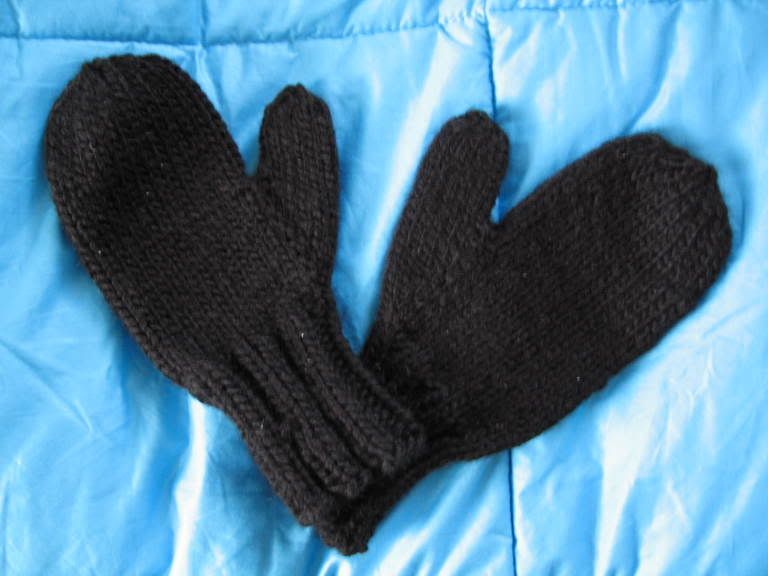 Plain Jane Mittens
Pattern: none, 36-ish stitches, ribbing, thumb gore - you know, mittens, trying them on as I go
Yarn: random black bulky wool from stash (see that Stashalongers?)
Needles: US 8 Brittany Birch dpns
Notes: I call them Plain Jane mittens for a reason, but they were a special request from my sister.
Best Thing About This Project: Keeping my sister in handknit warmth. She has a blue winter coat that is hard to match, and I made her a black feather and fan scarf a while ago. Shortly after requesting them, she bought a black coat and has started wearing it with the Cherry Blossom Shawl (Interweave Knits, Spring 2002) that I made her a few years ago. She probably won't wear the black mittens that much now, but they were already on the needles. Now she has options.