Charmingly Checkered
Far better is it to dare mighty things, to win glorious triumphs, even though checkered by failure . . . than to rank with those poor spirits who neither enjoy nor suffer much, because they live in a gray twilight that knows not victory nor defeat. -Theodore Roosevelt
I am astonished and amazed at all the amazing comments on Am Kamin yesterday, and all your collective support for the Knitting Olympics. Thanks so much. While I would follow
Lynda
's advice and never take it off, I didn't want to wear it to the hospital.
Yes, the hospital. Even 4th year medical students have to work occasionally, and I'm doing a fun month in the ER. It's great to be back seeing patients. It's less great to be working all night (check the timestamp - seriously).
Between the ER swing shifts and my lack of any knitting motivation these days, we're going to take this week to revist all the projects I finished during pre-season training for the Knitting Olympics. One of these days, I might even update my photo galleries. In the meantime, here's a hat. You've seen it here before, but here are the specs: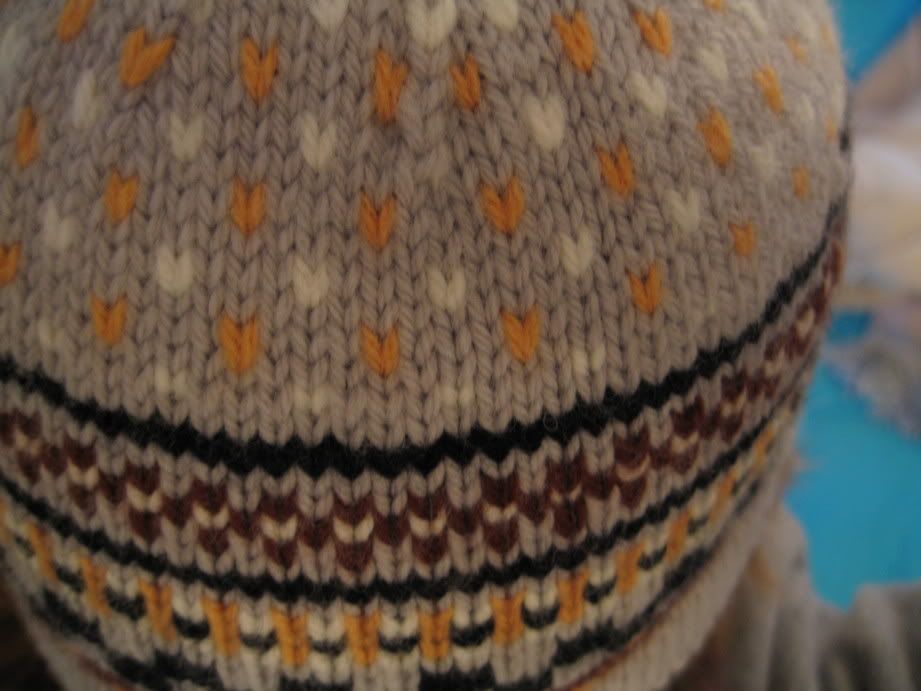 Checks and Charms HatPattern:
Checks and Charms Hat and Mittens from KnitPicks
Yarn:
KnitPicks Merino Style in the Fog colorway presented. The youth size (20") made a hat and 3/4 of a mitten with one ball of the MC, and, of course, plenty of the CCs leftover.
Needles:
Addi Turbos US5, with some metal US5 dpns for the top
Notes:
we're going to talk about weird hems soon
Best Thing About This Project:
it's just
too
cute