Winter Follies
The follies which a man regrets most, in his life,
are those which he didn't commit when he had the opportunity.
-Helen Rowland, A Guide to Men, 1922


Last week I sought comments on whether I should knit
this
absolutely gorgeous sweater. We discussed the dangers and opportunities inherent in starting any new knitting project, the opportunity cost of choosing one project over another, the inevitable choices we must make in life. It was deep.
And knitbloggers are smart people. Theresa,
they
said
with
great
conviction
, rip it out. It's in Inca Alpaca. You're moving to San Diego in June.
Laura
was appalled (as am I) that the center cable pattern is not charted. I considered the combined wisdom of the group. I considered the depth of commitment of this project. I fondled the baby blue Inca Alpaca and realized that it could happily become many things. And then I asked my sister her opinion.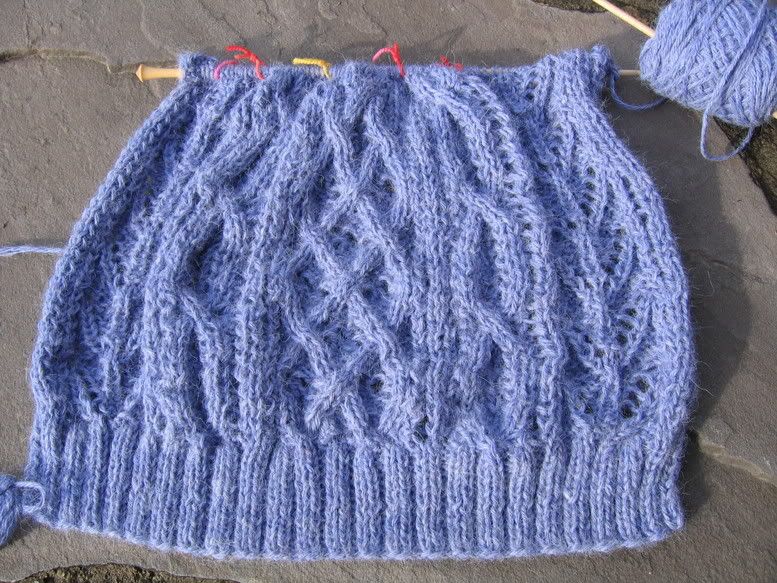 Meet the sweater I've decided to call my Winter Folly. (Cables and Lace,
Vogue Knitting
, Fall 2004) My sister's overwhelming compelling argument (and here it must be admitted that my sister does not knit) was that this sweater was just so
me
. Then I looked at the current San Diego weather. 54 degrees. And I remembered that actually, I was cold the entire month I spent in San Diego (September). It's warm enough during the day, but this sweater isn't exactly Navy reg anyway, and it gets pretty chilly at night. Plus, it's a great spring in New England sweater, and I made good progress on the back already.
And there is that one other thing . . . Many of the aforementioned intelligent knitbloggers recommended that I turn my attention to Rogue in a nice cotton or silk blend. Like I said, smart people. What I had neglected to tell them is that I'm making Rogue in stash yarn, 100% (rustic) wool.
What is that they say about
changing horses mid-stream
? Or should I pay more attention to those who forget history are
doomed to repeat it
?