A Piece of the Continent
No man is an island, entire of itself;
every man is a piece of the continent, a part of the main.
-John Donne, Meditation XVII
I am back in Rhode Island, which is not an island. (
It's complicated
.) It is beautiful, sunny, and cold. Great sweater weather. Great yarn shop weather.
(Here's the heating vent in my new - but actually really old - apartment. Isn't it a gorgeous work of art? Plus, it brings me heat. I'm in love.)
In fact, I went to The World's Best Yarn Shop,
Sakonnet Purls
, yesterday (yes, Sherry, the sale is going on through the end of January). I bought 2 sets of Addi Turbos, one pair of Lantern Moon straights, and some buttons.
And I did not buy yarn.
Neither, however, did I remember to take photos. I was too busy helping friends pick out yarn, thus discovering one of the great universal truths:
Picking out yarn for other people to pay for is fun fun fun.
The new knitter and expectant mother bought
Knitting for Baby
and
Plymouth Encore
to make a baby blanket. The less-new knitter bought some cotton to make a striped tank top. An interesting choice for a Rhode Island knitter in January, you think? Well this lovely friend of mine (let's call her J) just informed me that she's accepting a job offer at Cal State Fullerton - approximately 1 1/2 hours north of San Diego!
(Again, from my new-old apartment - what craftsmanship in the floor of the hallway! Stunning. Too bad all the buildings in San Diego postdate this one.)
Why didn't I think of this earlier? I can bring everyone to California with me. J, J's husband, and I had brunch this morning with a lovely (but tragically non-knitting) family of four, a family that is already planning a visit to Southern California in July. This would be the
lovely family of four
who dressed their sons in my handknit sweaters for The Official Family Christmas Portrait of 2005. These are
good
people, folks, good people.
Rhode Island is not an island. No man is an island. I am definitely not an island. We're enjoying lots of quality social events, many of which are drowning in nostalgia and remember-whens, so I'll leave you with some photos of the old and new around here:
The Old Observatory, which clearly predates electricity if they ever expected to see any stars: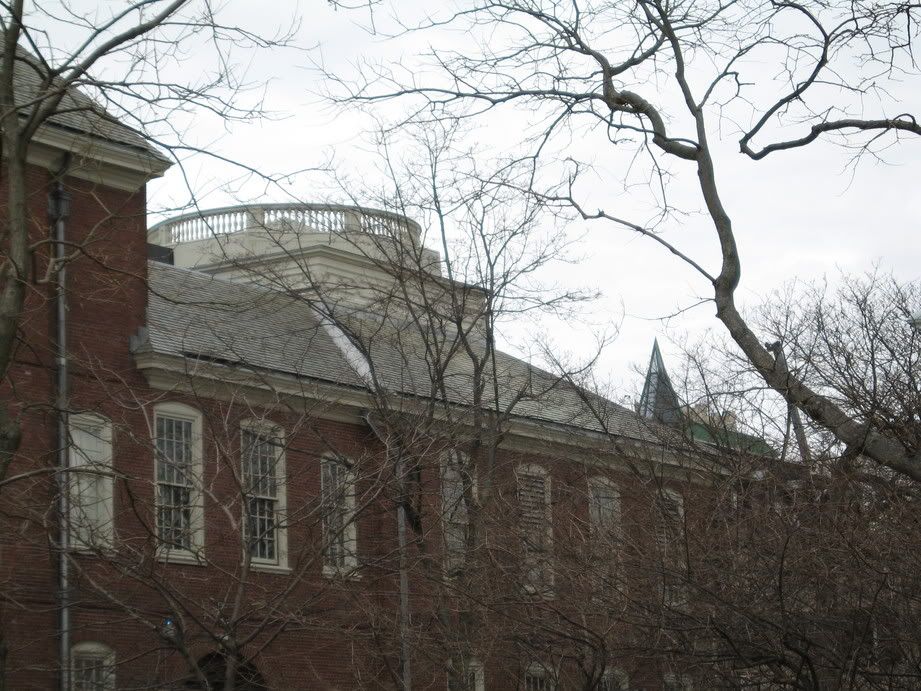 And then the new: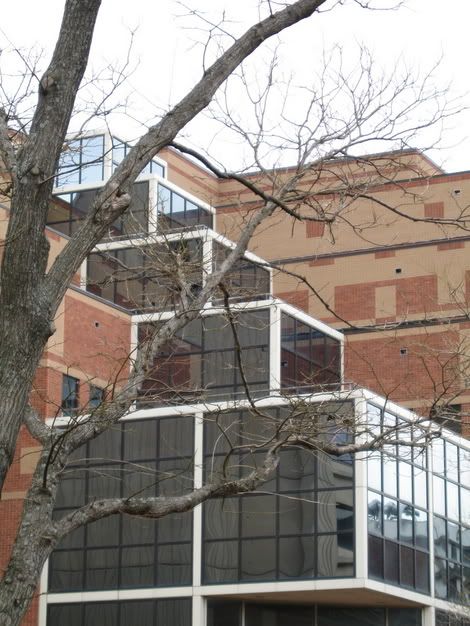 Because in this gorgeous modern building that pays homage to the historic buildings around it but doesn't slavishly imitate the styles of old, are the people who bring me my internet connection.
Remember that not-an-island thing?