I'm Done. I Think.
True ornament is not a matter of prettifying externals.
It is organic with the structure it adorns,
whether a person, a building, or a park.
-Frank Lloyd Wright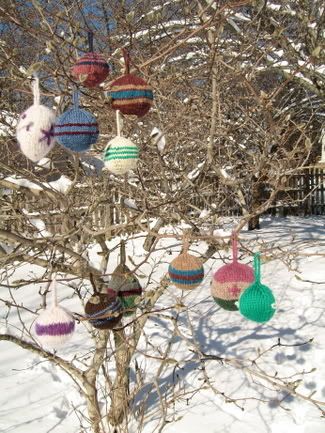 That would be, um, ten. And I only have one more on the needles. And maybe one more planned. Just a few more scraps to use up. Maybe two. But seriously. Enough is enough.
Christmas
Crack
Ornaments
Pattern:
Knitted and Felted Christmas Ornaments and Garland from Handknit Holidays. These would be the knitted ornaments.
Yarn:
The oddest of the oddballs from my collection - a mix of wool, chenille, mohair, synthetics, everything. These are really the ghosts of projects past, and I used pieces as small as 2 yards.
Needles:
Brittany Birch US5 dpns
Notes:
The pattern called for a yarn that seemed worsted or aran weight, and US 7s. That struck me as too loose a gauge for something that needed stuffing, so I went down to US 5s. Also because US 5 is the largest size I have in the small 5" length. Is that shallow?
Best Thing About This Project:
Clearly, I like this project. I can't stop. Very fun to see what combination I should use next. Plus, it uses everything. Even the smallest of the small yarn scraps that I feel compelled to save get turned into stuffing. Who doesn't love to make
something from nothing
?
Really, I'm ready to stop now. I have to. I'm driving back to Providence today and 1) it's dangerous to knit and drive and 2) the oddballs are staying in Pennsylvania. But even if they weren't,
I could stop anytime.
Really. I could.
You've Got Questions
. . . About knitting in med school. Several people want to know if anyone seemed to care that I knit in class, or if I sat in the back to be unobtrusive. No, on either count. I generally sat in the first or second row, but was careful to maintain eye contact with the lecturer rather than my knitting, to answer questions the lecturer might ask, and ask questions of my own. Second year we generally had a new lecturer every 1-4 classes as each taught her own specialty. At first glance, some of the lecturers were taken aback or suprised to see someone knitting, but I generally got only positive comments, especially after their lectures. I always felt like my knitting made sure that a) I went to class (non-compulsory attendance) and b) I stayed awake. Most of our professors seemed to appreciate that I was always present and participating and not surfing offensive websites like some of my classmates.
As for my fellow students, my class in medical school is more than half women, and there was at least one other who regularly knit in class. Believe me, I am incredibly grateful to all those women who were one of three or one of five or one of twelve in their classes that now I can be one of forty. What I feel mildly guilty about is that my knitting encouraged several of my classmates to knit in class as well, including one rank beginner who was not able to knit without holding the yarn and needles directly in front of her face and generally being disruptive. I know several of my classmates blamed me for her knitting in class (and, in the interest of full disclosure, teaching her how to knit.)
Once I hit the clinical years, many of those same lecturers recognized me and started chatting about what I'd been knitting recently. And then we discovered yet another universal truth:
People get impressed when the Chief of Cardiology starts talking to you in the middle of the CCU.
Perri Klass
, pediatrician/author/knitter, writes of knitting during lectures at the hospital - Grand Rounds, Noon Conference, and the like. This I've never done. I knit at medical student-specific lectures, but I'm way too low on the totem pole to knit in the same room as the Chief of Surgery. You
really
don't need to call extra attention to yourself during Trauma Conference . . . There's also a logistical issue: I never have any knitting with me when I'm running back and forth from the floors to the OR to the coffee cart to the auditorium. I don't anticipate being able to knit at lectures during residency, partially because of logistics (never having knitting with me), but partially because of the Navy uniform. I've never seen a specific prohibition, but, well, call it a gestaldt. . . Fine by me.
There's a time and place.