Enter Stage Left
All the world's a stage,
and all the men and women merely players;
they have their exits and their entrances;
and each man in his time plays many parts.
-William Shakespeare, As You Like It


Act 2 Scene 1
In which we witness, yet again, why I leave the writing of good dialogue up to the lovely ladies at
Damned Scribbling Women.
Setting: regular Tuesday knitting group at a grad student's apartment
Characters:
Our knitting heroine (let's call her Theresa)
Hostess (gracefully hosting knitting group, has tragically never been to San Diego)
Friend-of-Hostess (reads Japanese, knits, and might be moving to San Diego)

JayJay (knitting friend of Theresa's who is moving near San Diego)
Theresa:
Hello, Hostess. Thanks for hosting knitting this week. I can't wait to get started on the charts for my Am Kamin hat/swatch. It's too bad I don't read Japanese.
Hostess:
Hello, Theresa. Thanks for coming. Meet my friend. She is Japanese and just started knitting last week.
Theresa:
Hello, Friend. It's so nice to meet you. Do you read Japanese?
Friend:
It's nice to meet you, too. Yes I do. Would you like help reading your Japanese pattern book?
Theresa:
Yes, I would. Thanks so much. By the way, I'm moving to San Diego.
Friend:
Wow - I might be moving to San Diego, too. (This is true.)
Theresa:
Great. Let's be friends.
Other than the stilted dialogue, it was really just that great. Friend-of-Hostess clarified some of the symbols for me, but really, the chart is pretty easy to get the hang of. Want to see?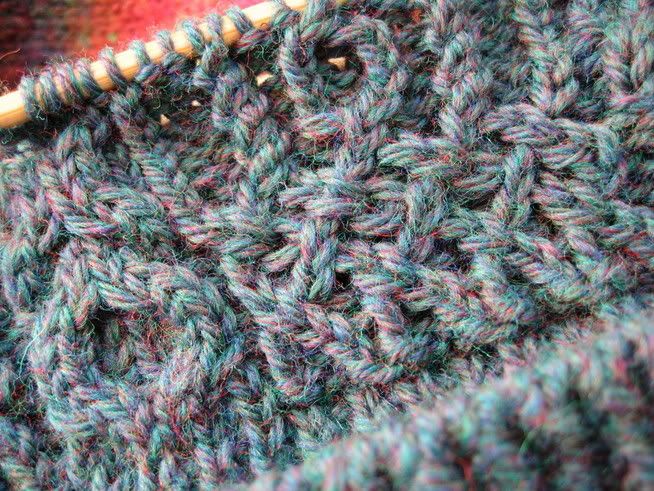 For some reason, I just cannot photograph this color accurately. It's a deep heathered green. Any photographic hints?
So, for those of you also working on Am Kamin, a few comments:
The twisted stitches are actually more like 1x1 cables in that they involve purling one of the stitches. I started that way, but then switched to the way I usually work, say, Bavarian twisted stitch patterns and knit both stitches. I've been purling those stitches on the next row, and I think it looks pretty good - unnoticeable, and it's MUCH faster.

Thoughts?

And how are you going to do this flat?

I like the "outside" of the tubular cast on better than the "inside," so I flipped my hat inside out after the ribbing and began working as if that were the right side. This way the nicer side of the tubular cast on shows when you turn up the hem.
Regarding reading the pattern (you've probably already figured this out) - they use E vs. E prime to tell you to reverse the direction of the cables/twists on the opposite side -

isn't that clever?
I'm falling in love. With Cascade 220. With green. With Japan. With twisted ribs and twisted stitches. I'm falling in love with knitting all over again. Think it'll last the 16 days of the Olympics?