The Organizational-Multiplying Tendency
America is a nation of joiners.
-Alexis de Toqueville, Democracy in America
I'm writing an article wherein undergraduates of the 1890s lamented "The Organizational-Multiplying Tendency" that was sweeping their campus. With all respect to those beanie-clad young men and their Base Ball Association, they've got nothing on knit bloggers. With that, I bring you this week's Knit-Along Update.
The Knitting Olympics

The Ultimate Knitalong Challenge. For the next 16 days, there are no others. Follow along here as
Team College Hill
performs fantastic feats of heroism to win their gold medals.
Theresa is knitting Am Kamin, and is apparently the only person in the universe crazy enough to do this.
Leah and Katja are knitting Ene's Scarf, with the full support of the other members of Team Ene.
And meet Rachel, the newest member of Team College Hill. The member in charge of dessert race food for the opening ceremonies, she'll be knitting Tubey.

Crossed in Translation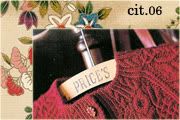 Did I just say that the Knitting Olympics were the only knitalong? I lied. I'll be Crossing in Translation with true global spirit. I even finished
the swatch hat
this week. And if you can explain to me
how a round hat is a swatch for a flat garment
, well, you're smarter than I am.
Stashalong

I went to a yarn store - again - and didn't buy yarn. I think helping others pick out yarn to buy is my new favorite hobby. Even my Sockapaloooza socks are from the stash!
I also finished
Winter Folly
this week (which deserves, and shall receive, it's own post), but there's a whole sweater out of the stash. Huzzah!
Count Your Socks
Add one more to my tally! I finished
my 90th pair of socks
this week with the Canal du Midi socks from
Knitting on the Road
. Regular programming will resume after the Olympics.
It's Not A Gift

I finished
Winter Folly
.
Rogue
is hanging out in a corner looking rogue-ish. And now,
Am Kamin
. They are all for me. As long as Am Kamin fits, that is.
Knit the Classics

Reading:
February's book is Marge Piercy,
Woman On the Edge of Time
. I have a copy. I'm making a real effort this year to read (check out the
52 Books
in my sidebar), as I feel my reading decreased a lot when I started knitting so much. Olympics or no Olympics, I want to read this. Last week I read Clifford Beers,
The Mind That Found Itself
, a memoir of a bipolar man at the turn of the 20th century. A fascinating look at how sanity was conceptualized then. I think the gendered and temporal contrast to Piercy's book will be worthwhile.
Knitting:
This book is all about insanity. Therefore, Am Kamin is my official KTC project this month.
It will drive me insane.
Sockapaloooza

This is a sock swap. I knit socks and mail them by May 2nd; someone else knits me socks. The world is small. Peace love and international understanding all increase. It's all good, and there's plenty of time.
My swapee wants fingering weight, wool blend, and bright colors, in whatever pattern I like. I have yarn, I have a pattern and both are from the stash:
Yarn:
Sisu
, a superwash fingering weight wool blend in a bright blue (cornflower-ish, maybe?)
Pattern:
Cascade Lace Socks by Anne Woodbury in Cast On from Summer 2004. It's pretty, I've never made anything from any Cast On, and I think it'll look great in this yarn. Plus, the pattern is marked "advanced" and I think my swapee deserves something impressive, my best work.
With that, we will be broadcasting all Olympics all the time.