A Day Late and a Dollar Short
It's never too late to be who you might have been.
-George Eliot
Didn't I tell you that this week was going to be all about recovery from the Knitting Olympics? Blog maintenance, etc. Well, that was before I spent my whole week confusing my circadian rhythms with overnights in the ER. But we'll get there. We have a couple of KALs for the
Scrapbook
this week, so I'll try to do them justice in our weekly knitalong update.
The Knitting Olympics

You've heard so much about the fabulous Team College Hill and our Knitting Olympic spirit. For anyone joining us now,
here
are the photos of our gold-medal projects, and a tour of the
February archives
is pretty much all Olympics, all the time.
Crossed in Translation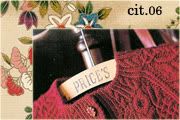 My Olympic gold-medal winning sweater was Am Kamin for the Crossed in Translation knitalong. Many thanks to Cara at
January One
for introducing this sweater to the knitting world. I love it more than words can say. Final comments are
here
, but don't be suprised if it shows up in every photo of me you ever see. It's that amazing.
Stashalong

Still stash-alonging . . . So why isn't my stash getting any smaller? I keep knitting and knitting, and the big bin of yarn in my (non-working) fireplace doesn't seem to get any smaller. How does that work?
Count Your Socks
Add one more to my tally! I finished
my 91st pair of socks
for
my dad's birthday
. The
Gentleman's Fancy Socks
from
Knitting Vintage Socks
. I've said it before, I'll say it again. I want to start a Nancy Bush fan club. One of these days, I just might.
It's Not A Gift

Jenn
is closing this post-holiday Knitalong. Since I've knit almost exclusively for myself since Christmas, I think I more than held up my end of the Not a Gift bargain. It's been all about lovely sweaters for myself:
Thanks, Jenn, for the excuse to knit for myself!
Knit the Classics

Reading:
I completely skipped February. Remember the Olympics? But March is going to be a good month for reading. The novel is Yann Martel's Life of Pi (hey Amanada - I borrowed it from your bookshelf), which I've been hearing about for a while.
Knitting:
I'll come up with a project when I start reading.
Sockapaloooza

Socks are all I've been able to knit since the Olympics, which is good for my sockpal. I cast on and have knit at least 6 rows of ribbing.
Yarn:
Sisu
, a superwash fingering weight wool blend in a bright blue (cornflower-ish, maybe?)
Pattern:
Cascade Lace Socks by Anne Woodbury in Cast On from Summer 2004.
And now I think we're caught up. Unless I joined any other KALs that I forgot about. Possible, but let's call it done for now.