A Swinger of Birches
I'd like to go by climbing a birch tree,
And climb black branches up a snow-white trunk
Toward heaven, till the tree could bear no more,
But dipped its top and set me down again.
That would be good both going and coming back.
One could do worse than be a swinger of birches.
-Robert Frost, "Birches"
I have a book of Robert Frost's poems illustrated by black and white photographs of New England - a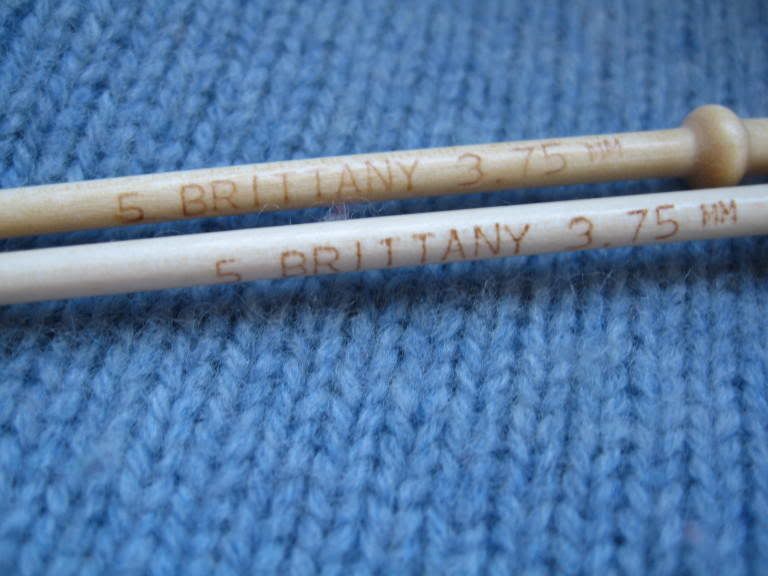 beautiful book, the kind that it almost doesn't matter what's inside because it is so beautiful by itself it can stand alone, be it's own justification.
That's how I feel about my Brittany Birch knitting needles. The smooth, hard wood, the lovely turned points and the size carved in, both US and metric. Ideal for wool or cotton, they may not be as fast as my Addis, but the pleasure they add to the knitting more than makes up for it. With my Brittany's, I come as close as I ever close to that Zen-like, relaxed, one-with-the-knitting state other people seem to acheive so effortlessly. I use the 10" straights for sweaters, scarves, and anything else that size I'm knitting flat. I use the dpns for nearly all of my socks.
Maybe it's because I use them so much, maybe it's because wood is not as strong as metal, but sometimes I break a needle or damage a tip.
It happened
on my Lantern Moon needles, once I pulled the cord out of the
needle on a set of bamboo circulars while in the White Mountains for a ski trip - miles and miles from the nearest yarn store - and I've even damaged my Addis by getting them caught in the car door and bending the metal. But when I damage my Brittany Birches (normal use only, not in car door incidents), I email
the company
and they send me replacements. Over the years, it's mostly been a couple of dpns here are there - US1s and 2s - but recently they sent me a whole new pair of US 5 10" straights after I wrote telling them about the chips in the wood in the points and how it was snagging my yarn. A whole clean new pair to replace the damaged pair. When they say guaranteed, they mean guaranteed.
What a great company. What great needles. Doesn't that make you happy?