Small Changes
Without a hoop, without a ruffle,
One external jig and shuffle.-Catherine Marie Fanshaw
Thanks to
Jenn
for pointing out that I've knit nearly all of Rowena (from
Knit2Togethe
r) without posting. So let me wax poetic for a moment on the joy of knitting plain stockinette. When reading. When studying. When one is too tired to knit lace. When one is riding (not driving, just riding) in a dark car. When waiting for friends at a restaurant. Or really, any time that isn't reserved for knitting of a higher order.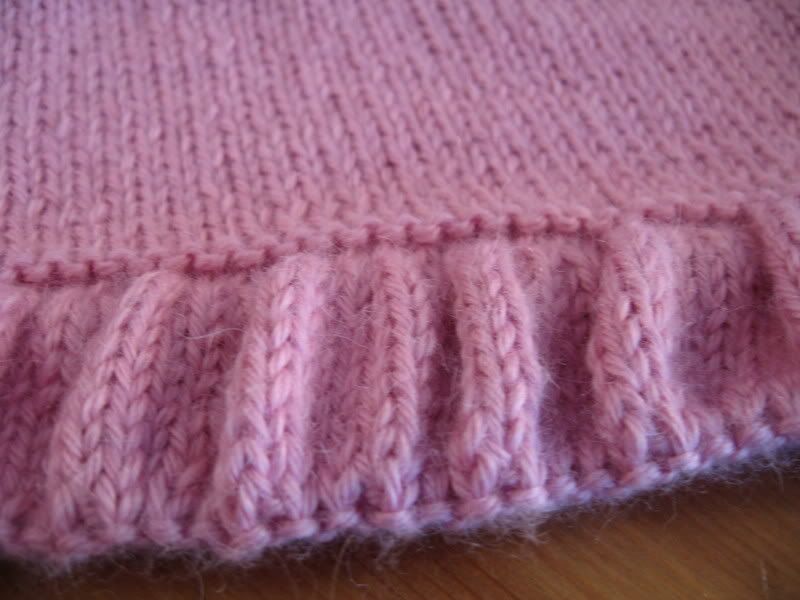 That's why so much has gotten done. Each piece of Rowena (1 back, 2 fronts, 2 sleeves) begins with a ruffle and then proceeds merily in stockinette stitch, with a raglan at the top. Easy peasy.
I did make a few small changes to the pattern as written, so I'll share them here now. Because if I wait any longer, it'll be done. Above you can see what I didn't change - how the turning edge looks with the purl turning row and the kfb increase every other stitch. I think the turning row is crucial to letting the ruffle be kind of flat and not too '80s-pouffy. To the left you can see the part of the ruffle that I did change. Although
Laura
recently had
a good experience
sewing down hems, I like to knit them up. It makes the sweater seem so much more finished as I knit it.
The pattern didn't clearly account for a place to knit the hem stitches together. There are 11 rows on each side of the hem, and the back has half the stitches of the front (hence the ruffle - following?) On the 12th row, you decrease the number of stitches in the ruffle by half (back to your starting number - still following?). On the 11th row, then, I picked up my hem by knitting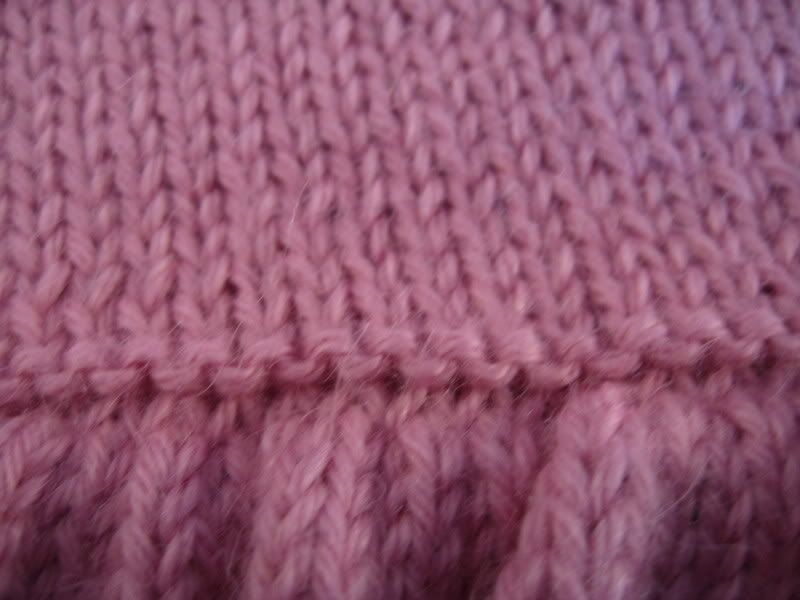 one stitch of the cast on (just a regular long-tail cast on) with one stitch from the ruffle - only I used every other ruffle stitch. And it worked great. Because of the pouffiness of the ruffle, I can't really see the hem knit up.
Can you?
The only other change I've made involves the raglan decreases. The pattern calls for decreasing the last two stitches of the row together, which makes for rather poor seaming in my experience. Examining the photo in the book, however, it was clear that they wanted to minimize or de-emphasize the raglan lines. It is not, after all, a sporty sweater by any means. Instead, I decided to put the decreases in one stitch from each edge, but to make them fully-fashioned, i.e. angled into the edge rather than away from it. (Like in
this pattern
.) So far it looks nice in the pieces (and I thought I had a photo somewhere . . .), so let's hope it looks good all sewn together.
Need a refresher on the other sweater details? My early posts about it are
here
and
here
.
Labels: Rowena