All Tangled Up
Oh what a tangled web we weave,
When first we practice to deceive.
Have you ever wondered what your UFOs are doing behind your back? Now I've discovered their dirty little secret.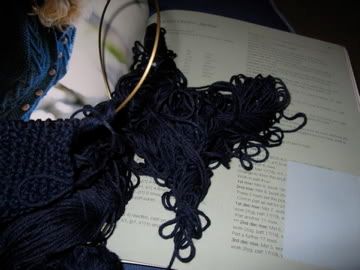 Yup, creating a huge tangled mess for us to deal with. Let's just say that denim yarn is not the easiest thing ever to unwind.
The upshot? I've starting paying attention again to my Shaped Denim Aran from Debbie Bliss' Celtic Knits. It must be something about fall, since it was right
around this time last year
that I started it in the first place. It'd be nice to wear in the next couple o' months, but it's a lot of cabling in a stiff cotton yarn. We shall see. I'm certainly not optimistic enough about it to make it my UFO for this month's UFO Resurrection - that honor goes to my
Backyard Leaves Scarf
.