The Half Monty
There are several projects I have never ended up doing,
for various reasons, but I still find myself researching them.
- Will Wright
All over blogland I've seen people updating their WIP lists, getting back into gear for the new school year, and giving us the state of the knitting. Somehow, I just can't seem to get that all together this week and find all of my projects simultaneously to photograph. But something is better than nothing, so I'll give you a brief, partial project roundup.
Started months ago, the Long Paisley Shawl:
Started months ago, and recently just worked on again, the Backyard Leaves Scarf:
Did I ever even mention this? Inspired by
Kristen's
, I just had to start a Prosperous Plum Tank.
A pair of mini-socks. I wear these with my clogs to work when I'm wearing scrubs. Here's some leftover Lorna's Laces and Artyarns Ultramerino.
And Lizard Ridge in process.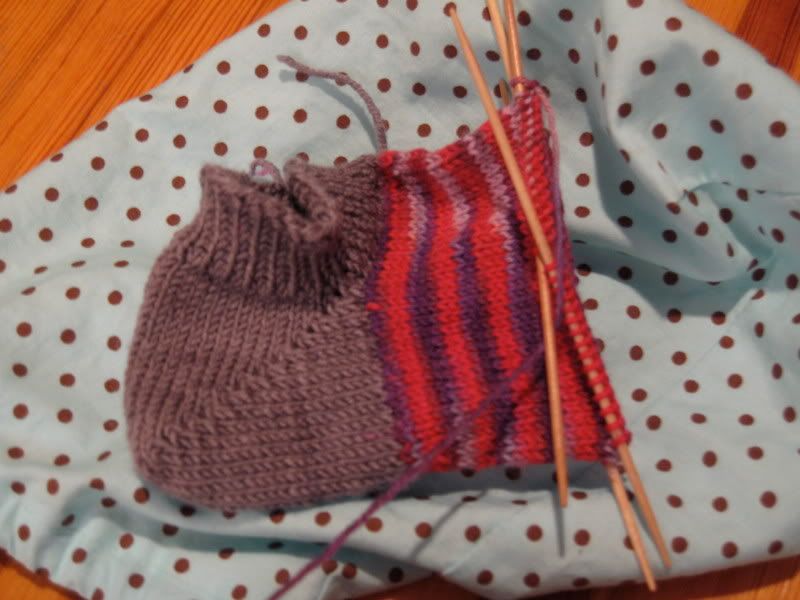 But I saw an amazing one the other day, and now I'm rethinking the entire project.
So that's part of the gang. Which part, you ask? I have no idea. But one of these days I'll get around to taking stock myself. It's important to at least glance about before starting that Christmas knitting . . .
Labels: General Knitting, Lace, Socks