The Baby Kimono: A Deep, Soul-Searching Experience
Once I put the kimono on, it was a whole different ballgame.
-Lucy Liu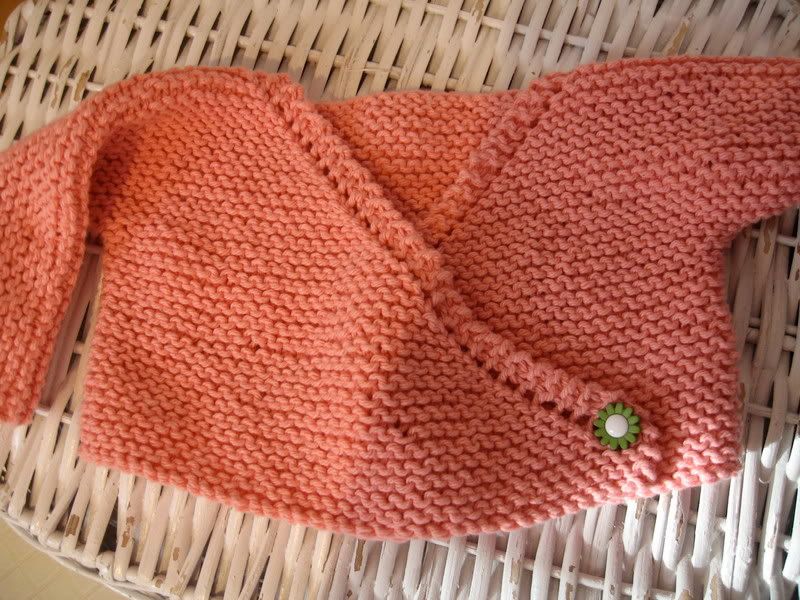 The One-Piece Baby Kimono Pattern: A Deep, Soul-Searching ExperiencePattern:
The One-Piece Baby Kimono from Mason-Dixon Knitting
Yarn:
Bernat Handicrafter Cotton in pink (2 1/2 balls)
Needles:
US 6 Inox straights
Notes:
see extended discussion below; but no mods
Best Thing About This Project:
Stash-busting!
I love Mason-Dixon Knitting. I really do. The photograph. The fun irreverence of the text. The great graphic design. The delight of the projects. And, of course, the ballband dishcloth. So I thought the one-piece baby kimono would be a shoo-in for me. Dishcloth cotton (I am the dishcloth queen, after all . . .). Fun cute baby-ness. Endless variation. All that jazz.
And then I knit it. The knitting was actually OK. Bernat Handicrafter cotton that I picked up in 2 big bags at a sale at Michael's years ago ($5 for 10 balls - hard to beat) - much softer than I expected. And garter stitch is just sometimes something that soothes the soul.
But the end result? I don't have a baby to model it on (and - for clarification - all the baby knits are for
the babies of friends
), but those sleeves look awfully narrow, and the stair-step bind-off kind of uneven. There's also - if you look on Ravelry - a big difference in these in how much kimono there is below the increasing on the cross-over fronts. Clearly, row gauge strikes again, but I think I might have liked a longer kimono. And because you do the fronts last and it has to match the back, there's no way to adjust for that without starting almost over. My favorite part is probably the button.
Now let's hope of one those friends of mine is expecting a girl . . .