Blue Jeans
Blue jeans are the most beautiful things since the gondola.
-Diana Vreeland
I'm still waiting on those photos of me knitting in my camis that I know you're all dying to see. In the meatime, how 'bout some knitting?
Every month I feel compelled to remind you of
my plan
. Did I never tell you about what I was going to make with
the denim
I bought for Month 3? (We, uh, started Month 4 yesterday.) I was feeling all denim-y, like I really needed a cute - knitted - denim jacket just in time for fall. It is feeling vaguely autumnal these days, if only on knitting blogs and not in San Diego. But I digress.
I wanted a sweater. In denim yarn. There were 2 Debbie Bliss denim patterns on which I've long had my eye:
Above, from Debbie Bliss' Knitting Workbook - the Denim Embroidered Jacket I believe it is called. Miles of stockinette and a new exciting embroidery technique to learn. Pros: I've been knitting lots of st st and ribbing while reading medical journals, so it might actually get done. Cons: My other sweater in progress at the moment is the ribby cardi. I could handle something a little more exciting. And the embroidery might be a little much in some ways.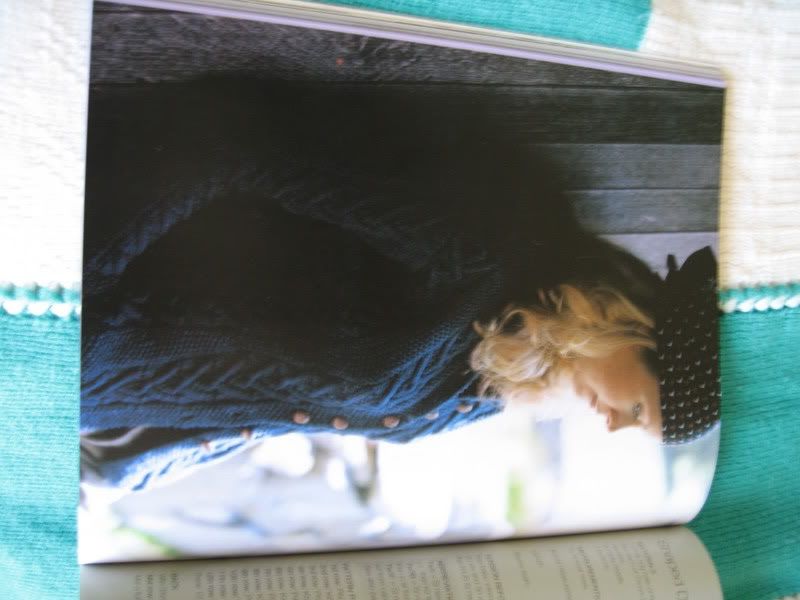 And the second (sorry about the poor photo), is also from Debbie Bliss, this one from Celtic Knits. Pros: So me. Fun but easy to memorize cables set off with seed stitch. Denim yarn looks great in cables. Cons: This one will take a little while, since it's a dark denim, hard to do at night, and just needs more attention.
Any last minute bets on which one I choose? Option Two. It's just so me. I started the back about a month ago (on knitting, but not blogging, schedule), and just got up to the beginning of the waist shaping. When I had a realization. Sizing issues.
See, I'm getting gauge, I think. The pattern is written for two sizes - 34 and 36 bust. What I didn't notice until yesterday was that the actual sizes that correlate are 40 1/2 and 42 inches. Now, I have a 36 inch bust, and I make most of my sweaters somewhere between 34-40 inches, depending on how heavy it is, how much ease I want. Usually it's a gestault kind of thing. A cardigan like this I would usually make about 38-40 inches, but I thought I could get by with a 36. . . which is turns out is really a 42. And, contrary to the sizing suggestions, this appears to be a fitted jacket. I'm going for a fitted jacket. Are you still following?
OK, so who here has worked with denim yarn in the past? Because I can make my sweater back somewhere between 39 and 42 inches, depending on which direction I stretch it. I know the yarn shortens lengthwise with washing, but I thought not so much widthwise. So, should I continue on making the larger size planning to pull it lengthwise in blocking, or do I really need to rip it out and make the smaller size? So far I've knit one of 17 or 19 balls (depending on the size), so this is the time to rip it out.
When I was frustrated with that last night, I picked out and started my project for Month 4. Details to follow, but I'm on Ob-Gyn this month. It involves babies. And oddballs of stash yarn. It is a good, good time. (That will also leave lots of time to settle my issues with the denim jacket above.)