Useful and Beautiful
Have nothing in your houses that you do not know to be useful,
or believe to be beautiful.
-William Morris
Let's review
the plan
, shall we? My year of
indentured servitude
internship is divided into 13 "months." I knit. I want to continue to knit. Oh, and by the way, I just moved a huge number of boxes of knitting books and yarn cross-country. Maybe I should use them. Especially the books. Books are heavier than yarn. So each "month" I intend to start (yes, there is no mention of finishing here) a project from a here-to-fore under-utilized book.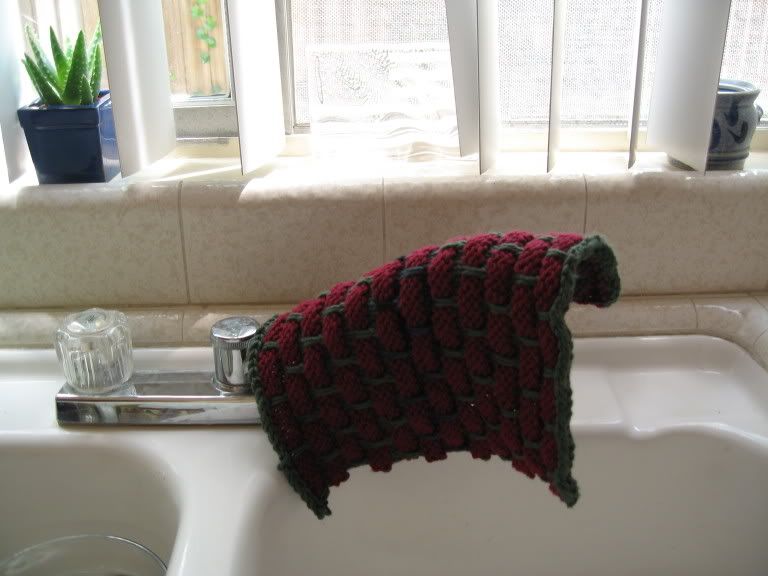 While Month 1 is still sitting around here somewhere in a state of uncompletion, Month 2 is actually done. Amazing. Incredible. To what complicated involved project did I devote so much time and attention? A Mason-Dixon ballband dishcloth!
OK, you have definitely not seen it here first. You have definitely not seen it here last. But you have now seen it here. Useful. Beautiful. The colors are not that fun, but it was oddballs. And simple enough to knit while reading about osteopenia. I'm a convert. I may have even started a second one. You know, so that I'll have another unfinished project lying around. Never can have too many of those.
Month 3 starts on Tuesday. It is entirely possible that I have just ordered some yarn. All that yarn I just moved cross-country? That would be wool.