A Banner Day
What is life? It is the flash of a firefly in the night.
It is the breath of a buffalo in the wintertime.
It is the little shadow which runs across the grass
and loses itself in the sunset.
-Crowfoot
Yesterday was a banner day (except, of course, that I missed Knit Salon. Again.). Screen on the Green - Some Like It Hot outside in the park called instead. Did you know you can buy juice boxes of wine for those times you're not allowed to have glass? (You can.) But even before that I was in a great mood. Want to know why?
My mail service has resumed after my move. While I'll hold off on the paean to the US Postal Service (or would an ode be more appropriate?), my local mail carrier brought me two wonderful things:
1. My fall Interweave Knits did. (More thoughts on the issue later, but I think I liked it more than many of you in blogland).
2. This: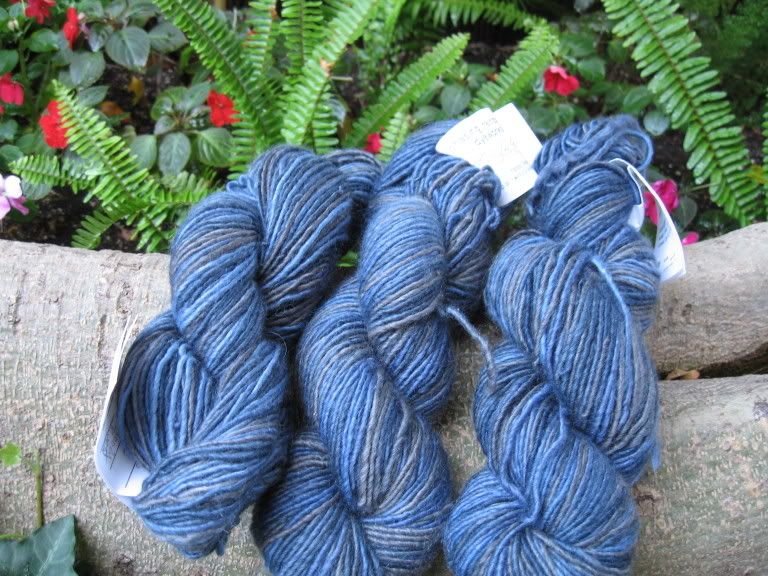 Silk. Wool. Singles. Hand-dyed. Gorgeous. Stunning. My favorite colors. I need to knit it now; I may never knit it, I may just carry it around with me all day every day. And why are visions of mini capelettes dancing through my head? Never worn a capelette in my life, but I think I may be about to start. Because this yarn is definitely whispering in my ear.
P.S. I really DO think that's a tiger in yesterday's photo. I think I was at Tiger River taking these. But maybe it was really Monkey Trails? Either way, it's a wild beast.