Hard Choices
Life is choices.
-Rob Orr, my high school biology teacher
Sometimes, this NewCaliforniaLifestyle of mine just gets too challening. Hard choices to be made between two very good options. Saturday presented one of the biggest challenges yet - knitting with
the super-duper San Diego knitters
or sailing in the bay.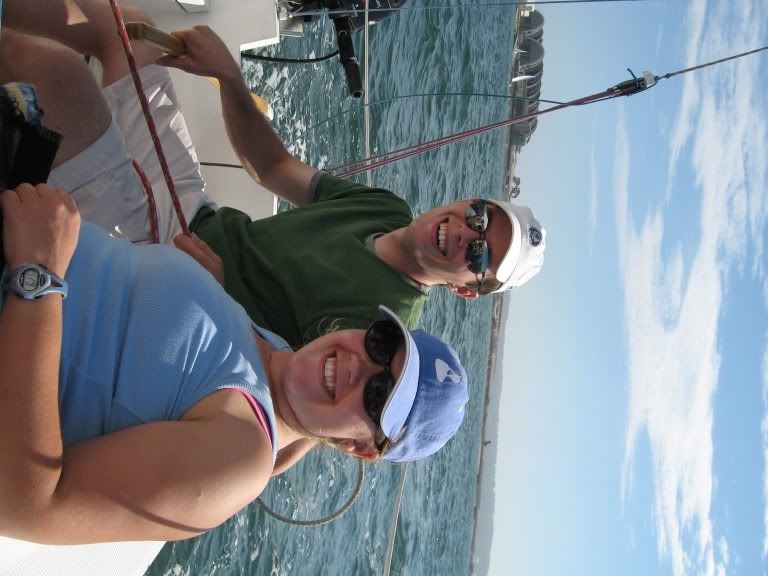 With all affection for the knitters, they meet pretty often. A day on the water is a little harder to come by.
Do you see the sock in the photo? Barely there, but I did knit a whole couple of rows of the heel flap just so my knitting wouldn't feel TOO neglected.
In other meta-knitting news, I've discovered
one of the great consolations over overnight call
. As previously discussed here, we wear our uniforms with pride at my particular military installation. Except after 1600 on overnight call when we can wear scrubs. Scrubs are all sorts of comfy fun (see
Gamecock Doc
- she agrees), but that also means I get to wear my fun brightly-colored handknit socks every fourth night. What a deal, what a deal!
And as a related note for those of you following the "now-she's-a-doctor" saga, thank God for the
80 work week
. I am post-call today, so I was leaving the hospital after my 30 consecutive hours were up. (And in my particular military installation, we change back into our uniforms - with pride, of course - on our post-call mornings.) I made it off the wards to the intern locker room - No bookbag. Went back to the call room. Went back to my locker. Made it out of the hospital to the edge of the courtyard - no cover (uniform hat). Can't go to the parking lot without a cover. Back to the locker. Made it out to the parking lot - no keys. Lather, rinse, repeat - I got my cell phone on the fourth trip. And I felt just fine. Doesn't that make you glad I wasn't taking care of patients at the time?