Weekend Roundup
A ship in port is safe, but that's not what ships are built for.
-Grace Murray Hopper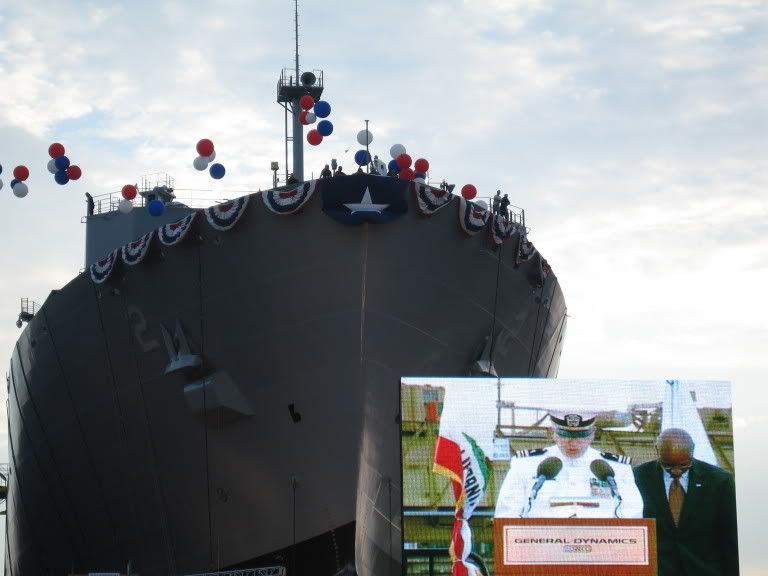 Not to dim the excitment generated by yesterday's felted clogs, but it's time for a little weekend round-up from my last free weekend in a long while. (Not that they've given us our call schedule for the month starting THIS THURSDAY or anything. That would be far far too convenient.) At any rate, I went to the launch of the USNS Sacagawea on Saturday. Twenty-six of her descendents were there to launch it into the water (40 metric tons of displacement). It was cool. I was in uniform, so there was no knitting. In fact, there has been a tragic lack of knitting these days. I used to knit a sock a day in medical school (the first two years, at least) - even on my Surgery rotation, attendings would joke about my knot-tying skills. Something tells me that the knitting-at-work days ended when I became a doctor and put on a uniform. If it's not the one, it's the other. I do have one friend who is knitting her way through (civilian) intern orientation, but she's a Pediatrician. Things are a little warmer and fuzzier over there.
At any rate, the fun-filled weekend included some knitting at the Padres game. Your eyes do not deceive you:
1. Look how close we were. It was awesome.
2. Look how sunny it was. Let me assure you that the sunburn on my arms tells me exactly how I hold my arms when knitting.
3. Look how much progress I've made on the Lace Aran tank. The back is done and the front is almost up to the armholes. If I focus, I could wear it soon. More likely, I'll wear it later this summer.
Good times. Good times.