Getting There . . .
The principle goal of education is to create men who are capable of doing new things, not simply of repeating what other generations have done - men who are creative, inventive, and discoverers.
-Jean Piaget
Still closing in on 100, here are Socks Number 97 and 98. The Fancy Silk Stockings I finished in Providence, and just sent off for the Sock Yarn Addicts Club swap. Number 98 I finished as we were driving into San Diego on Monday morning - talk about timing!
Fancy Silk Stockings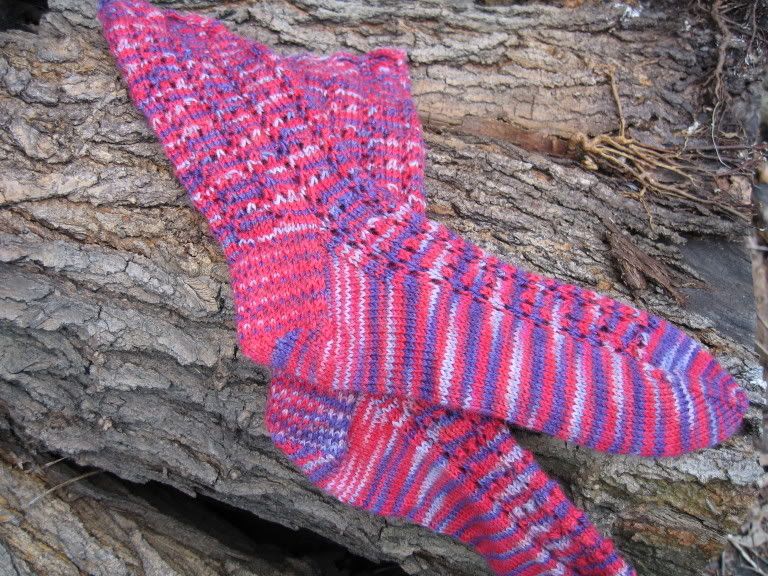 Pattern:
Fancy Silk Stockings from Nancy Bush's Knitting Vintage Socks
Yarn:
Lorna's Laces Shepherd Sock, Miata colorway, won in a contest on
Leah's blog
Needles:
US 1 bamboo dpns
Notes:
1) I did an eye of partridge heel instead of heel stitch. Otherwise I followed the pattern. 2) This was the April/May sock for the
Knitting Vintage Socks Knitalong
. And it's still May.
Best Thing About This Project:
Did you
note
the phenomenal yardage of the Lorna's Laces? Very impressive.
Summer Stripe Socks
Pattern:
simple st st on 64 sts with a picot hem, short row heels and a regular toe
Yarn:
Regia Cotton, from The Great German Sock Yarn Stash Enhancement of 2006
Needles:
bamboo US 1 dpns
Notes:
Love the picot hem. And I was feeling so inspired (at the time) about those short-row heels, but then I remembered - I hate the way they fit. Why do I always remember too late? On another note, check out the photo on packing material. We're running a special on cardboard, since I think we have enough empty boxes to climb to the moon at the moment.
Best Thing About This Project:
Finishing these cotton-blend sassy summery stripey socks just as we crossed the San Diego county line. How perfect is that?