Double Your Pleasure
Double Your Pleasure, Kiss Me Twice.
-Vintage button, circa 1960s
Commencement weekend was just fabulous - family, friends, doctorness - but I did absolutely no knitting. Not a stitch. And today I'll be running around like a crazy lady getting ready for The Grand Cross-Country Road Trip of 2006 (begins tomorrow, 6am). So let's get caught up on some knitting that didn't make it to the blog yet, shall we?
I was helping my Grandmom do some organizing this past winter, and we found the fabulous vintage 1960s button quoted above. I'm sorry I don't have a photo, but it's bright orange and has cute cartoon children on it. Today, to double your pleasure, we have two lace scarves.
Cashmere Leaf Lace Scarf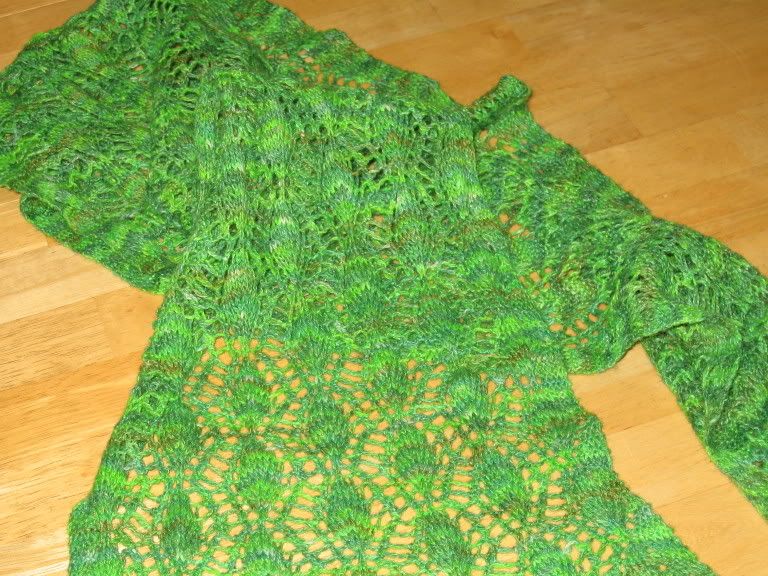 Pattern:
Leaf Lace Scarf from an old Vogue Knitting; other details lost in the copying; 76 st lace repeat
Yarn:
School Products Hand-dyed Cashmere-Silk Blend in greens; 1 sk, approx 400 yds of fingering weight
Needles:
US 2 old-school aluminum straights - it's all vintage here
Notes:
This scarf turned out a little wider (10") and a little shorter (56") than I would normally make scarves, but it looks nice anyway. It was a pleasant, relaxing pattern to knit. I made it on smaller needles than the pattern called for, but I think it shows the lace better.
Best Thing About This Project:
Leaving a wrapped birthday gift for a September birthday - one less thing to pack!
Lopi Lace Scarf (in Silk Garden)
Pattern:
Lopi Lace Scarf from Weekend Knitting
Yarn:
Noro Silk Garden, 2 skeins
Needles:
US 9 Brittany Birch 10" straights
Notes:
This was a fast, fun knit. I saw
Cassie's
back in March and I was suddenly compelled to make one out of some Silk Garden in my stash. I'd made the scarf before in plain colors, but it was so vastly entertaining this time around. The zig-zags. The color changes. The vegetal matter always in Noro yarns. I could barely put it down.
Best Thing About This Project:
Knitting it was just so fun.