All Day Long
May the sun shine all day long,
everything go right and nothing go wrong.
May those you love bring love back to you,
and may all the wishes that you wish come true.
-Irish Blessing
It's amazing what a little sun can do to photographs, isn't it? (Which means that any blurriness would be my fault and not the weather's.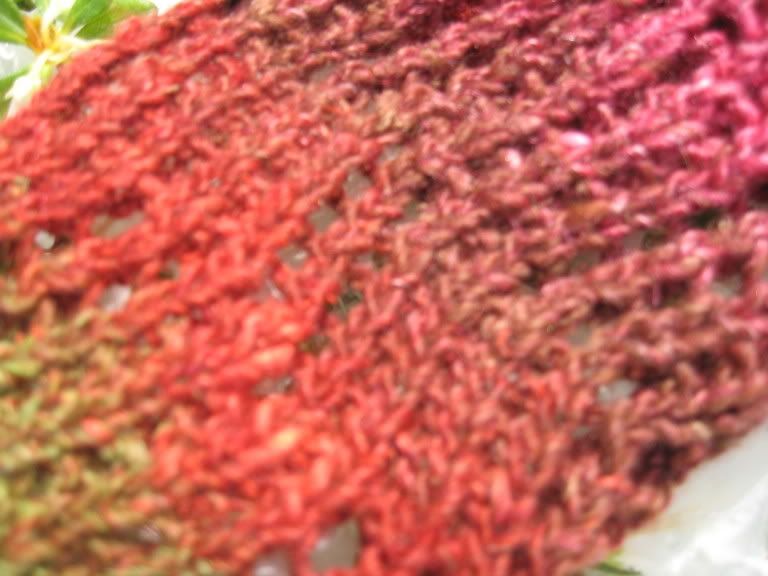 Felix and I have stopped driving around just long enough to do some knitting (and take some pictures with the pretty flower bushes). While I was doing so well with all that finishing last week, I just had to start something new. On your right, the Lopi Lace Scarf from Weekend Knitting. In Silk Garden, not Lopi. It is fun. It is addictive. It is fun. Did I mention how fun it can be to knit lace on US9s? Fun. Fun. Fun. I might have to make more. Plus, it's quick. It'll take two skeins, and I knit the first skein in pattern in about 3 1/2 hours. Can anyone say Christmas gift?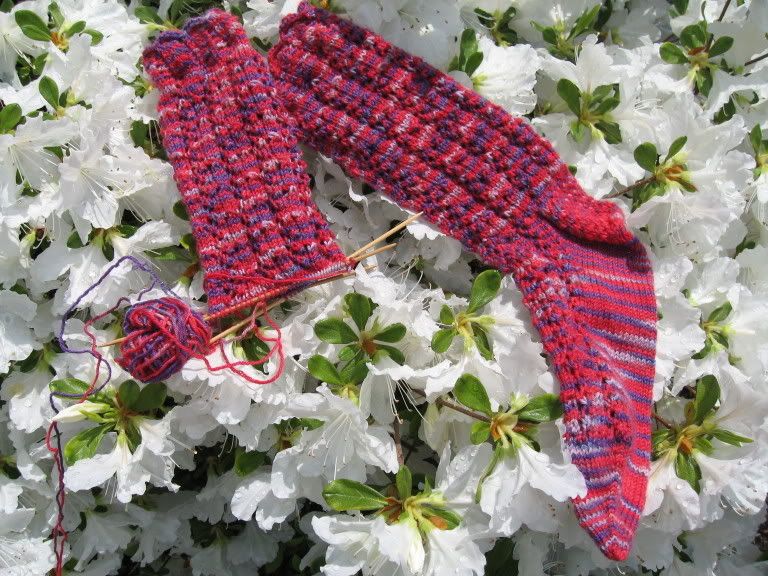 On the left, the Fancy Silk Stockings from Knitting Vintage Socks in Lorna's Laces. Usually I knit each sock from it's own ball, but I found myself out and about without the second ball. Look how much yardage there is! I actually finished the heel and picked up the gussets before it ran out of yarn, and these are with 7.5" cuffs and for a 9.75" foot. It makes Artyarns' yardage look punier and punier . . .
In the interest of full disclosure, I should point out that I find myself physically unable to knit anything but lace right now. It's the sun. It's the flowers. It's
The Amazing Lace
. Note that, due to an overwhelming response (we've stopped counting, but there are now around 300 participants), we are closing sign-ups on Memorial Day. All aboard who's coming aboard; all ashore who's going ashore.