The Guild Hall
To gild refined gold, to paint the lily . . .

-William Shakespeare, King John
I don't know about you, but when I think of guilds, I think of medieval times, the
Burghers of Calais
, and - for some unexplicable reason - big heavy beer steins. The reality couldn't be further from the truth.
Meet the Ocean State Knitting and Crochet Guild:
In a chain of events that began with the
Knitting Olympics
and Team College Hill's
fifteen minutes of fame
in the Providence Journal, we were invited to attend the
guild's monthly meeting last night.
We spoke about our very (in)sane approach to competitive knitting-as-sport.
Katja
(on your right) had to represent both herself and
Leah
as the knitters of Ene's Scarf, since Leah just couldn't make it back from Paris in time. Tragic, really.
Rachel
and I
wowed
scared them with our plans for
The Amazing Lace
. (Over 220 participants to date - sometimes it scares me, too.) One of the many joys of meeting a group in person is the back-and-forth, give-and-take; we got to answer questions in real time, as opposed to the several-days delay that can happen in blogland.
One of the other joys is getting to fondle others' projects. We met knitters who don't have blogs (incredible, isn't it?), which was a new and exciting experience. Since this is Rhode Island, however, we quickly established about two degrees of separation. Of course, we met also knitters with blogs. Am I the last person to learn that
Judy
(on your left) has a farm? And here I was jealous that she was just back from Maryland Sheep and Wool. I learned that
Kristen
is as lovely in real life as she is on her blog, and
Cindy
convinced me that a linen shawl is in my future. This is a summer of lace, is it not? I hope I didn't miss any blogs,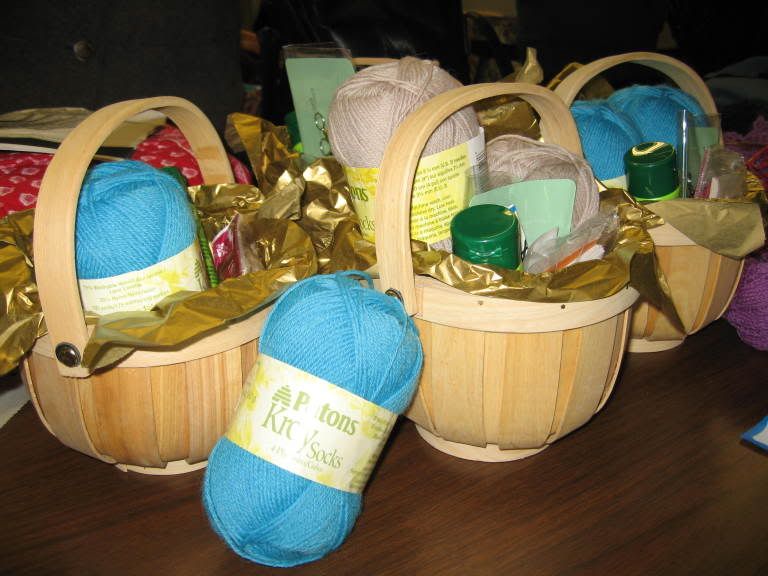 but let me know if I did.
Last, but certainly not least, the guild gave us lovely knitterly gifts. Can you believe that these are the first decorative stitch markers I've ever owned? Me neither.