Fee, Fi, FO, Fum
Finish each day and be done with it.
-Ralph Waldo Emerson
Spring. New beginnings. Usually I feel like starting all sorts of new projects. Not quite this year. I don't know if it's the impending move, the cold snap earlier in the week, the desire to
start my lace
with a clean slate, or the post-Knitting Olympics realization that I can, in fact, actually finish projects. Either way, I've been on a finishing jag recently.
Trellis
Pattern:
Trellis
from Knitty, largest size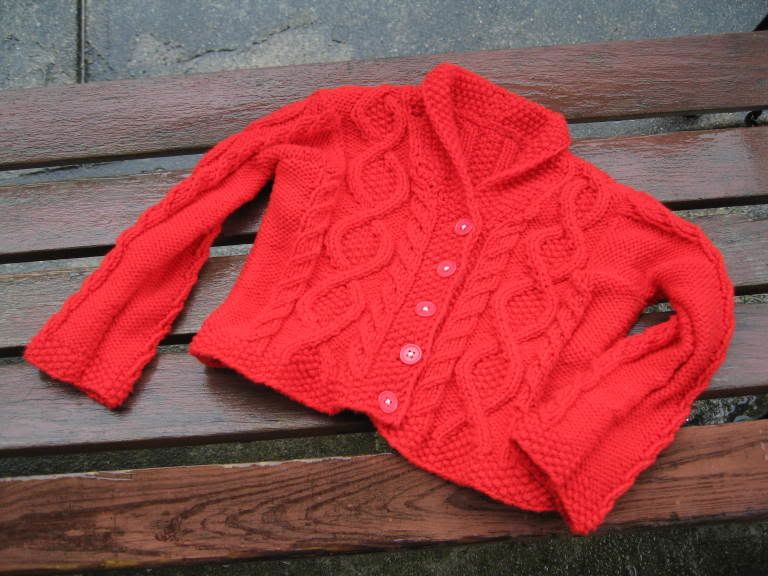 Yarn:
Lionbrand CottonEase in Red (why did they discontinue this yarn?)
Needles:
US 7
Notes:
1) I made the twists mirror images of each other, because that kind of thing is important to me. 2) Way too much finishing for a baby sweater. Note to self: Knit pullovers, not cardigans, without fancy collar shaping.
Best Thing About This Project:
I "rediscovered" how to mattress stitch in reverse stockinette stitch while on airplane at 36,000 feet.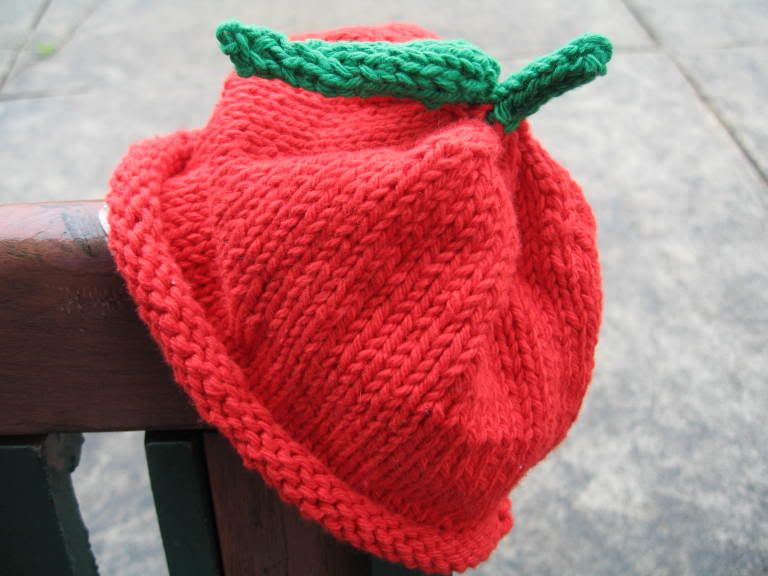 Apple Hat
Pattern:
Easy-Stitch Apple Cap from Family Circle Easy Knitting, n.d.; newborn size
Yarn:
discloth cotton
Needles:
US 7
Notes:
A variation on the strawberry hat theme. Cute.
Best Thing About This Project:
There are triplets coming. Triplets. Think of the possibilities.
German Flag Socks
Pattern:
generic st st sock pattern out of my head (68 sts for a man)
Yarn:
Regia, self-striping like the German flag (bonus points: bought in Germany)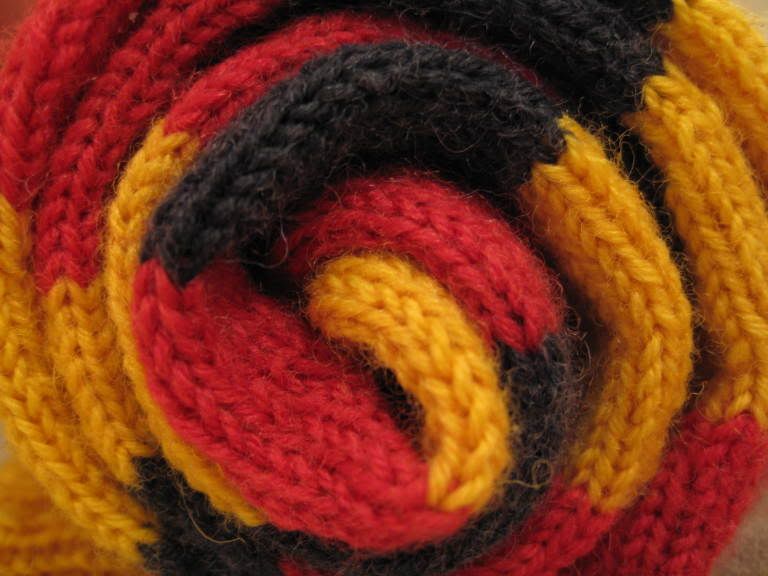 Needles:
US 1 dpns
Notes:
I began from the outside of the ball, which resulted in upside down flags. Meaning no disrespect to Deutschland, I ripped them out and started over from the center. I did, however, maintain my artistic license to have fraternal socks that didn't start with a full repeat of black.
Best Thing About This Project:
Where to start? They are a gift for the friend who accompanied me to Europe to pick up
my snazzy new car
. He bought me sock yarn; I made him socks. We drove around Sweden and knit on the sock outside of castles and ate pickled herring. . . On top of all that European fun, this is a man who appreciates handknit socks. He has been known to write spontaneous text messages in praise of handknit socks. Just because his feet were comfortable. . . . And for
those of you who are counting
, that would be
pair of socks #96.
And
Rogue
is maybe even kind of sort of done. Details will follow next week.