Darn It! Part I
I'm a knitter, not a sock repair person.
-Stephanie Pearl-McPhee (loosely qtd. from memory),
Yarn Harlot: The Secret Life of a Knitter
My feet are cold. You've seen the
box o' socks
. How can that be, you wonder? Note that there are actually three sock boxes - the big one has all of my sock-yarn, fingering-weight, etc. socks - mostly wool and wool blends, and definitely warmer than your average store-bought monstrosities. But they are not subzero socks. They are not up for spending many hours outside standing in snow taking photos of knitted objects. No, such occasions send us to the smaller (and original) box o' socks which holds the big, thick wooly socks, including the warmest of all possible socks, two pairs of
Dawn Brocco's free pattern for Lopi Socks
. The
third and newest
box o' socks holds - with it's beachy theme - my wool-cotton blend socks and also the footie half-socks that I wear to work all summer. I have plenty of socks. Of the 94 pairs I've knit, more than 30 are still in my possession.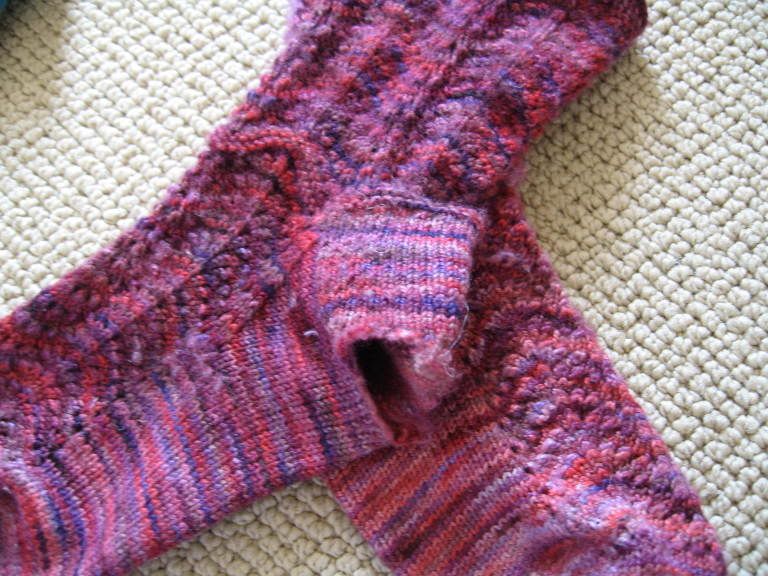 So what's the problem?
Socks with no shoes, meet hard wood floors.
After years (in some cases) of faithful service, some of my socks have gotten holes.
In her second (and very funny)
book
Stephanie Pearl Mc-Phee
talks about how knitting a pair of socks is the ultimate love - because they take hours and hours to knit, and then -
when used as intended
- they wear out. She maintains that she darns socks the way her mother taught her - she holds the damaged socks over the trash can and yells "darn it" as loud as she can. Admirable spirit, that.
Nevertheless, my feet are cold, I have many other things to knit, and thought it would take less time to fix the holes than knit whole pairs of new socks, even in worsted weight yarn. Enter darning.
Darning has
a pragmatic side
- faster than knitting two new socks, but it also has
a sentimental side
. On the one hand, I tend to like my socks and want to keep them. On the other hand, I can channel
Laura Ingalls Wilder
. Works for me.
The socks above are Koigu feather and fan socks, and the socks to the left are striped odd balls of worsted weight wool. For our tutorial, we'll look at the striped ones, since I'm out of the original yarn and it'll be easier to see what's going on in a contrasting color. So come back tomorrow to see how we fixed them.
Can you stand the suspense?