The Week of the Sock Begins
Maru Mori brought me
a pair of socks
which she knitted herself
with her sheepherder's hands,
two socks as soft as rabbits.
-Pablo Neruda,
Ode to My Socks
A Proclamation: The Week of the Sock
In honor of the impending finish of sockapaloooza, I hereby declare this week The Week of the Sock.

It will be all socks. All the time.

There will be exciting events all week long, so be sure to check back often.
The first order of business is to present a pair of socks that I finished in Scotland and have never seen the light of this here blog:
Birch Leaf Lace Socks
Pattern:
Birch Leaf Lace Socks by Nancy Bush in A Gathering of Lace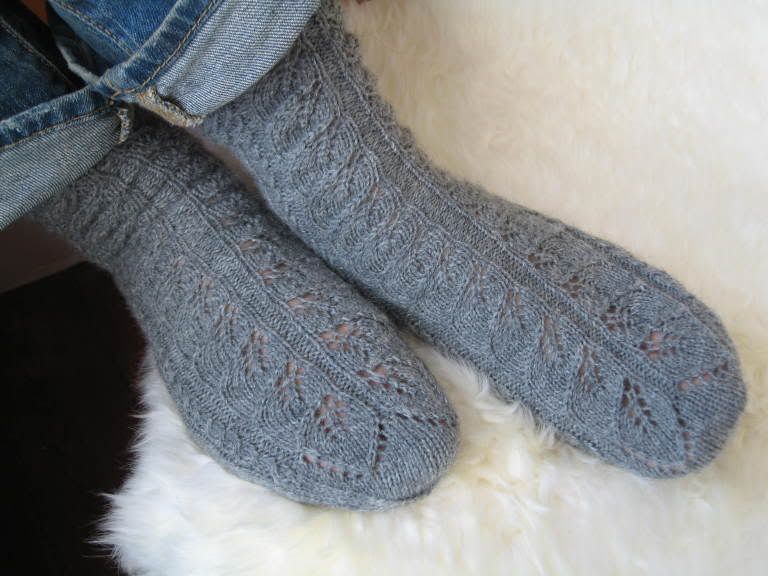 Yarn:
Sisu 100% Norwegian wool in light grey
Needles:
US 1 bamboo dpns
Notes:
1) Katja has bigger feet than I do 2) I decreased two stitches on the round where the leg switches from lace rib to stockinette so the st st doesn't bag. 3) Recently I seem to be revisiting favorite patterns of the past. (And yes, Nancy Bush has designed them all.) Of the last 5 pairs of socks I've knit, 3 of them are repeats. This is one of them. This is possibly the most beautiful pair of socks I've ever knit.
Best Thing About This Project:
Kitchenering the toe in Scotland approximately 20 minutes before leaving and giving them to Katja. Because there definitely wasn't any room in my suitcase.
And In Un-Sock-Related Fun:
Remember
Kat's
contest for the 5 places you've knit?
My answers
got an honorable mention for the Perri Klass lecture. It seems to be a fluke based on the non-knitting judge having heard of Perri Klass, but it's pretty exciting nonetheless.
Go check out the winners
- intense!