Showing the Socks A Really Good Time
Eh Dicha, das ist ech cool, eh!
-My new German phrase (Hey Dude, this is really cool!)
Because this is a knitting blog and not a travelogue (although, tangentially speaking, Mark Twain's The Innocents Abroad is a hilarious travelogue, but not in the same league as Life on the Mississippi), and because knitting is a metaphor for life, I'm going to show you
the Europe that the socks saw.
There are obvious omissions. The socks did not go dancing with good-looking Danes named Lars. (Poor socks.) The socks did not climb Scottish mountains or walk around the Lochs. (Their loss.) The socks did not eat any European chocolate. (Lent? What Lent?) But really, only my family should be forced to sit through a slide show of all 298 photos I took. And since I'm seeing them next weekend, you're all spared.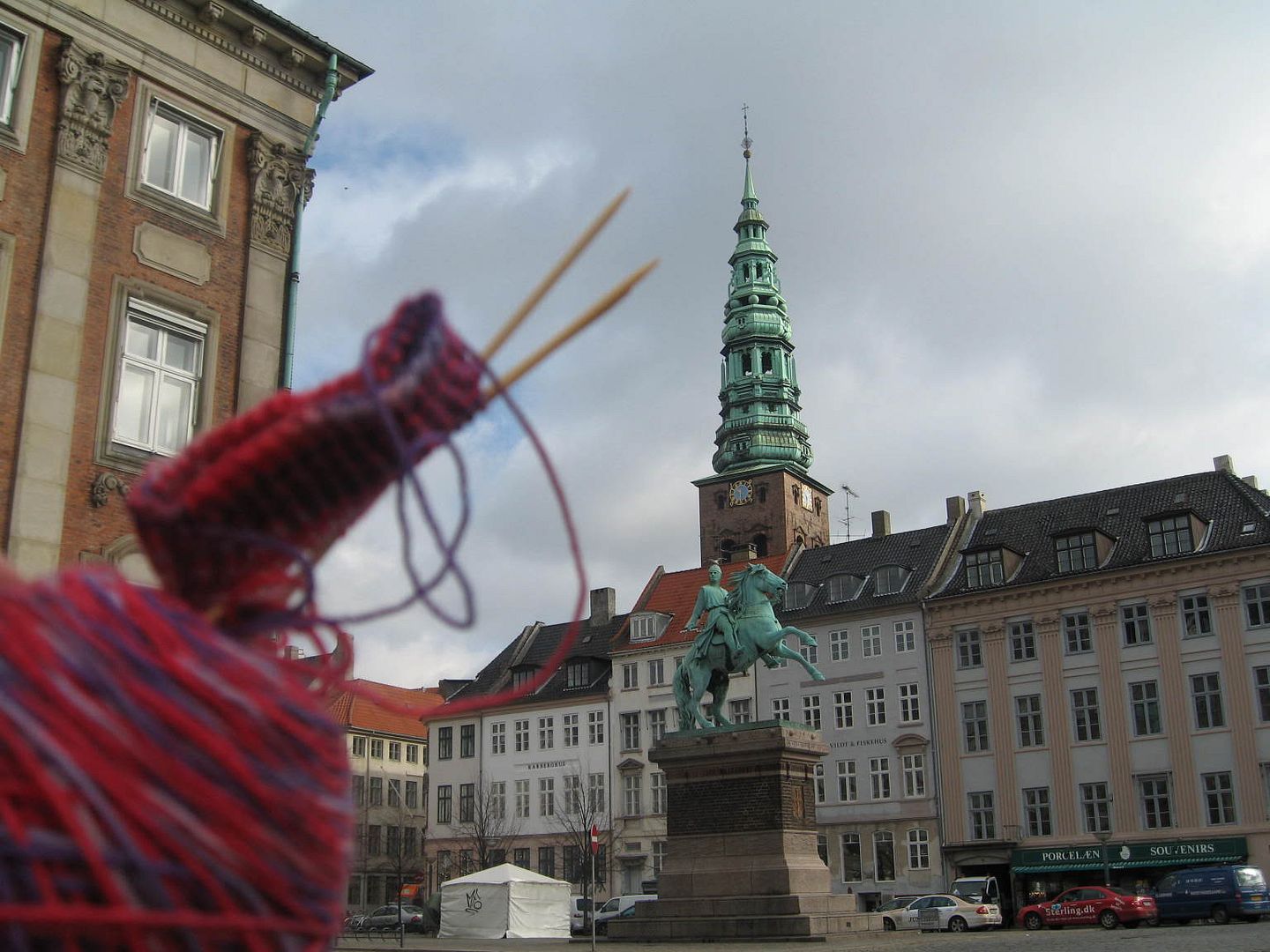 We started in Copenhagen. We started knitting Pomomatus out of the Lorna's Laces that I won in Leah's contest. It was
short-lived
on both fronts, as we had a train to Hamburg to catch and 72 sts of 1x1 twisted ribbing just made the pretty Lorna's dissolve into a pool of, well, pooling.
A good yarn deserves better
, so we pulled it out somewhere between there and Germany.
In Germany we met up with Katja, the German member of Team College Hill, propelling our Olympic glory to a whole 'nother continent. (I wore Am Kamin. It was cold in Hamburg.) Since the rain followed me everywhere I went, I don't have any amazing outside photos of the sock on top of the bell tower. Turns out the sock is afraid of heights. But here's the Birch Leaf Lace Socks from A Gathering of Lace on the way down. Katja is holding it, as it was an intended gift for her.
Is it rude to complain about how long your friends' feet are in front of them for nearly two weeks?
I was afraid of that.
After a whirlwind couple of days in Germany, it was time for Sweden! You met Felix (my snazzy new car) yesterday, and Felix is the reason I have so few photos of knitting or Sweden. I was too busy driving. We did see some Swedish castles, however: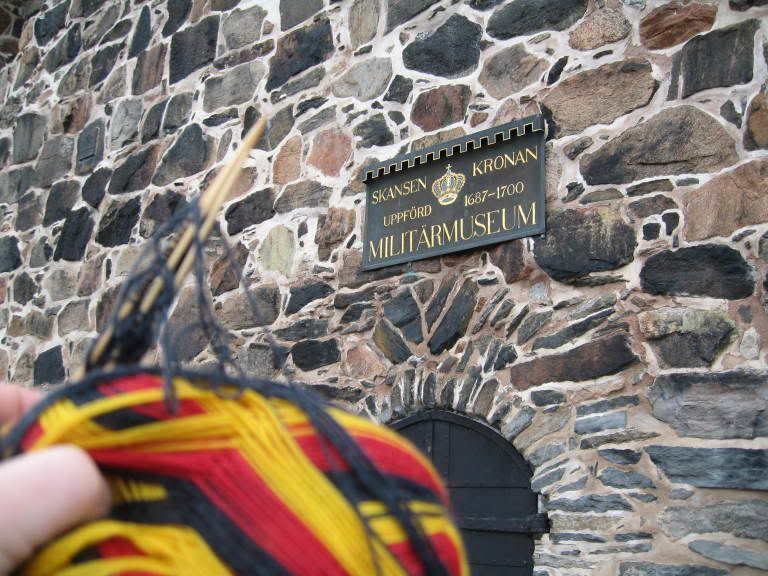 What? You don't recognize that sock? It's Regia that stripes like the Germany flag. I, um, er,
bought it in Germany.
Along with a lot of other sock yarn. A lot. Photos of the loot to follow. Which would mean I lost in the final days of the Stashalong. But I did get in just under the wire for the Sock Yarn Addicts Club.
Can't win them all.
Tomorrow we'll pick up in Scotland. There was great knitting in Scotland. I knit. Katja knit. Antje, Katja's mom, knit. We had bracing winds and warm cozy fires. What a place for wool!