Meet Felix
Take a vacation where the souvenir is part of an unforgettable experience.
-
Volvo Overseas Delivery
Tomorrow I will show you the Europe that the socks saw and talk about knitting and you will like it. But I can no longer ignore the clamoring masses who all want to see this:
Meet Felix (and my friend in the background). Felix is my new car. It is also a brand of tomato ketchup that they use in Sweden. It is also the name of a charming statue in downtown Gothenburg. It also means "happy" in Latin. And my car makes me very happy. For the car folks out there, it's a 2006 S40 T5, 6-speed manual transmission with a sunroof and a really cute dorsal-fin antenna (not visible above). If you really need a knitting corollary, Felix represents a lot of yarn I won't be buying.
And there he is in rural Sweden, his natural habitat. After signing the papers, we got the (strange electronic) keys and headed off on a totally unguided driving tour of rural Sweden. We saw some castles and stuff, but mostly we drove.
Speaking of Sweden, check out the Swedish license plates: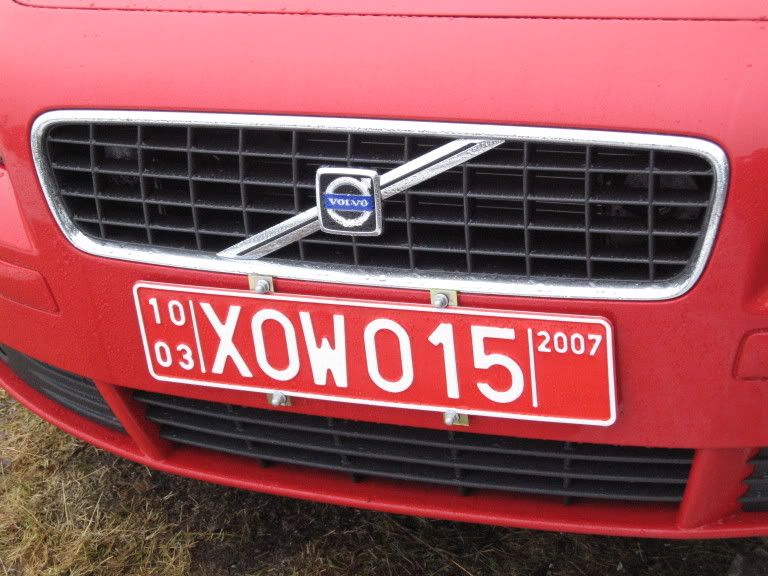 They match. I get to keep these, and since Pennsylvania doesn't require a front plate, guess what's going to stay?
Several of you wanted to know why I bought a car in Sweden. It's the overseas delivery option that most European car companies offer. It's the same car I'd buy in the US, but I got two free plane tickets to Sweden, a hotel, Swedish meatballs, etc. And then I fly home and the car follows on a ship. Should be here in about three weeks. But the best part is taking a vacation in your new car. I love to drive. I love road trips.
Road Trip Future
And there's another one coming up . . . As many of you are aware, I'm graduating from medical school in May and moving to San Diego, CA in June to start residency. In the very narrow window in between when I finish in Providence and start in San Diego, my brother and I are driving Felix cross-country. It'll be my third cross-country road trip and we're taking a southern route so I can cross Mississippi off my list. Like I said, I love to drive. Philadelphia to the Great Smokies through Shiloh into Mississippi (my 49th state) into Texas and across the Southwest into San Diego.
Anyone on my route
want to hang out the first week of June? I'm not asking for me.
It's my 21 year old brother who really wants to know.