Red-Blooded, True-Blue
I am a free-born American. I can bob my hair. I can smoke cigarettes.
-Flapper/Suffragist mantra
I don't smoke, and I'm actually growing my hair long, but I'm all about individual liberty. And because we know that the personal is political and the political is personal (Happy Tax Day to everyone), last night I exercised my right of free choice.
I could have worked on my Rose Leaf Lace Stole (of which you saw a very crumpled version on the airplane
here
).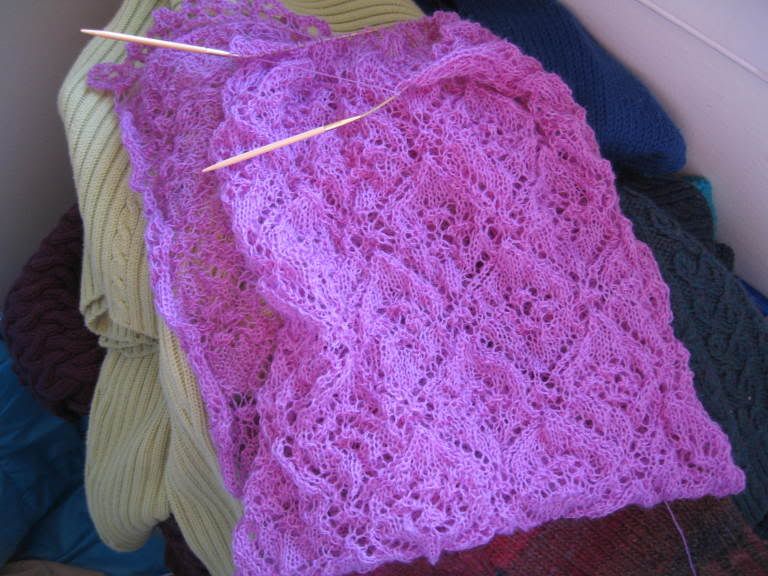 This is a simple stole pattern from
Vogue On the Go: Scarves
that I've admired for a while, and since I agree with
Elizabeth Zimmerman
that lace makes great travel knitting (so much knitting, so little yarn!), this was my non-sock project in Europe. Think long trans-Atlantic flights and evenings near the fire in Scotland and every WS row being purled while reading
Sherlock Holmes
, and there's 7 of 9 repeats, with only a simple border on the short ends. Yes, I could have worked on this last night and made great progress.
I could have knit
Trellis
, or
Branching Out
, but they make such good knitting group projects. I could have knit
Rogue
. Rogue (Cardi Version) is far along, with only a few inches of the fronts and the hood remaining. But then I'll have to sew in a zipper. And I hate sewing in zippers. And who wants a heavy wool sweater in spring? (Or San Diego, for that matter?)
Or, I could have knit socks. I love socks. I currently only have four in progress: A plain ribbed pair, the German flag socks, my sockapaloooza socks (Chalet Socks from Folk Socks) with one done and the second started and the deadline fast approaching, and, of course, the Argyle Socks. (We all knew
Chris
was going to mention them if I didn't, right?
But what would any red-blodded, true-blue American do in this situation? Start a new project of course. Here's the beginning of my
Ribby Cardi
.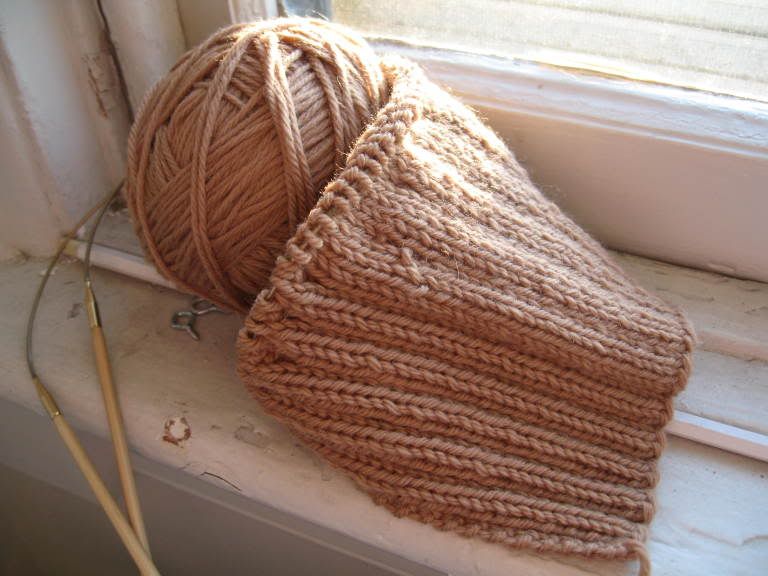 I'm just The Official Worsted Weight Wool of Knitting Underway (recently seen in The Knitting Olympics): Cascade 22o. The body is in that beige above and the sleeves are in a heathered slate blue.
Tell me, you would have done the same thing, right?