A Member in Good Standing
In order to be an immaculate member of a flock of sheep,
one must above all be a sheep oneself.
-Albert Einstein
Those of you who watch my sidebars closely (Hi Dad!) may have noticed some new buttons and links. Each of the last five pairs of socks I've knit has been from a Nancy Bush pattern. I've mentioned many times that if there was a Nancy Bush fan club, I'd join. Turns out, there is. There's
a Flickr group
for visual feasting,
a webring
to commune with other lovers of Nancy Bush sock patterns, and two - count them - two! knitalongs dedicated to Nancy Bush's sock patterns. I joined them all at once. Who wouldn't?
To prove that I am a member in good standing for all the web-based Nancy-Bush sock-knitting fun, I present two finished socks. (Excuse the poor photo quality. It was early in the morning. I had a plane to catch. These are a much deeper blue in real life.)
Sockapaloooza: Chalet Socks
Pattern:
Chalet Socks from Nancy Bush's Folk Socks
Yarn:
Sisu in a deep blue
Needles:
US 1 bamboo dpns
Notes:
1) I kitchenered, photographed, and washed them at 5am before leaving town so that they would dry before the May 2nd mailing date. When I first heard of the swap, I wondered why we had so much time. Now I
know. Oh, and I'm including extra yarn for any future darning needs. 2)This is the second pair of these I've knit. I have a pair in red merino, and they are lovely. All those twisted stitches are rather time consuming for socks, but the result is worth it. 3) The calf shaping in these is indispensible. The twisted stitches do strange things to the elasticity of the yarn.
Best Thing About This Project:
My first-ever blog swap. . . .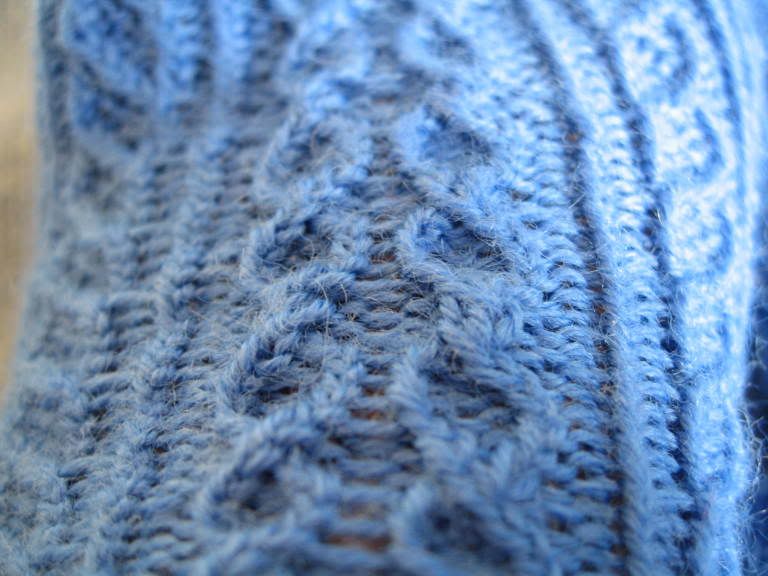 And those twisted stitches. (And to my sockpal - don't worry about it! I'll look forward to the surprise.)
And in old news that buried under all the European excitement . . .
Last Gasp of Winter: Pacific Northwest Socks
Pattern:
Friday Harbor from Nancy Bush's Knitting on the Road
Yarn:
Mountain Colors 4/8 Weaver's Wool Quarters in Midnight (or maybe Sapphire?)
Needles:
US 4 dpns for the top lace pattern; US 3 dpns for the leg and the foot
Notes:
1) The top lace pattern is very inelastic. I had to rip them out and go up a needle size so as not to cut off circulation. 2) In the interest of full disclosure, this is the second pair of these I've made, as well. Kate D. has the first pair in the Evergreen color. 3) This yarn is so soft, but it pills like crazy.
Best Thing About This Project:
Keeping my feet warm on a long trans-Atlantic flight. That, and how quickly socks go on 49 sts.
This concludes our celebration of The Week of the Sock. I'm glad you all enjoyed the darning tutorial.
Because if the sock was worth knitting, it is worth darning.