California Girl
I wish they all could be California girls . . .
-The Beach Boys
So, what was wrong with Blogger this week? Was everyone else getting those "unscheduled maintenance" messages? And here I had so much to blog about! So bear with me as I get caught up on 1,700 miles of driving, my first week in San Diego, and all sorts of knitting adventures (and caught up on my bloglines and responding to comments - you guys have been busy!).
Because this is my blog, and I feel inspired today, I'm going to work backwards.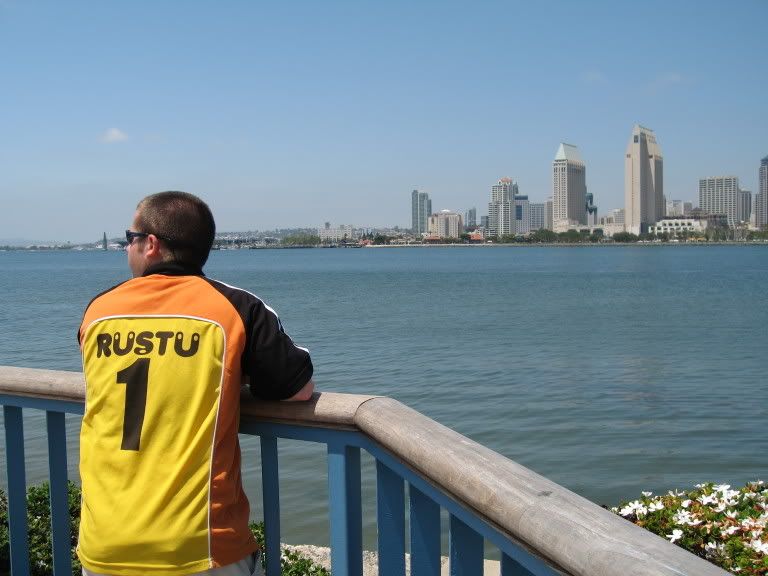 Today I'll talk about San Diego, and then tomorrow we can go back in time and talk about exciting things in West Texas (no kidding).
OK, San Diego. Billy and I arrived safe and sound on Monday, and promptly set off exploring. (Look left to see actual proof that Bill arrived safely, but, tragically, not yet able to knit.) Here we're standing on Coronado enjoying the view of the bay and downtown. We were there to do some paperwork on one of the Navy bases (and do tax-free shopping), and The Best Brother in Blogland (TM) even bought me lunch. Isn't he great? Ask him anything about Ikea bookcases; he's now an expert. And don't they put Navy bases in beautiful places?
On your right, note the sock relaxing in the only sun we've seen all week (June Gloom). That would, in fact, be a Trekking sock. And enjoy it, because that is the only gratuitous knitting content of this post. . .
Although, in other knitting-related news, the movers have somehow misplaced half of my household goods (apparently the "unaccompanied baggage" half, whatever that means). I'm sure it will show up at some point, since I now have half of the Personal Property Office working on the trace (is it bad that they recognize my voice when I call?). The problem: Most of my stash is in that shipment, along with my paper shredder, bathrobe, and other miscellaneous useful items.
And for our final non-sequitur of the post: Apparently there are weekend knitting groups in San Diego - a fabulous concept. But guess what I'm doing this weekend? Flying to Washington, DC for a wedding. That's right - five days after getting here, I'm turning around and going back.
Maybe next week I'll begin to feel settled? Settled or not, I'm starting work next Wednesday!
ETA: So I (yes, I, not the Personal Property Office whose only mission in life is to keep track of personal property) found my stuff. It's been in a warehouse in San Diego for 2 weeks, but the paperwork had the wrong social security number attached. Of course, now they can't deliver it until after I start working. Argh!