I May Never Knit Again
The sewing machine joins what scissors have cut asunder,
plus whatever else comes in its path.
-Mason Cooley
Theresa is in San Diego and her computer is not yet hooked up. So here is a post from her future archives.
I know. That's a scary title for a post. On a knitting blog. But look at my graduation present:
Is this the best graduation you've ever seen? Seriously. I have The Best Parents In Blogland (TM). Now, I know pretty much nothing about sewing machines. But I do know that after my mother came up with the idea that I might use a sewing machine (and they didn't even see
this blog entry
until later), my dad did all sorts of research into consumer satisfaction and this rated very highly. He also reports that there are many sewing blogs, should I get so taken that I abandon knitting altogether. So apparently this is a great sewing machine. It makes buttonholes, and some fifty different stitches.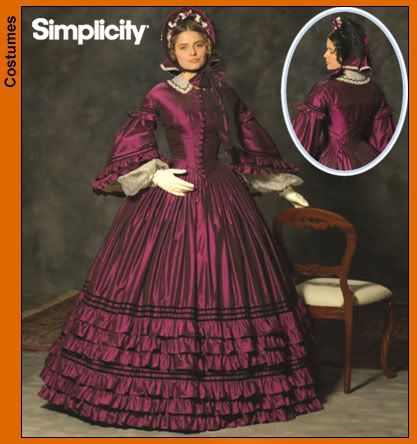 At the moment, I can't can't even sew with one stitch. But I'm going to learn. I have a zipper to put in
Rogue
. I want to make pillows. I want to make
The Weekender Bag
. And, inexplicably, I really really want to make this Civil War-era ballgown. I know, but I can't exaplain it either. I think I'll start with pillows. Actually, I think I'll start with lessons.
The Best Parents in Blogland (TM) were also considerate enough to give me this graduation gift before the movers came, so the machine is all packed up and on its way to San Diego. Just one more thing to look forward to in MyNewCaliforniaLifestyle.